New Build Homes in Darlington
Discover New Homes & Developments in Darlington
If you're looking for new builds, Darlington is an excellent location to start your search. As well as great employment opportunities, the town has an attractive property market with affordable housing and a wide choice of flats, terraced, semi-detached and detached properties.
From central locations to properties with rolling countryside on their doorstep, a new home in Darlington with Keepmoat guarantees the very best of modern living, with stunning developments that are ideal for a range of buyers and families. Explore new houses for sale in Darlington today and make your dream new home a reality.
Why choose a new build home in Darlington?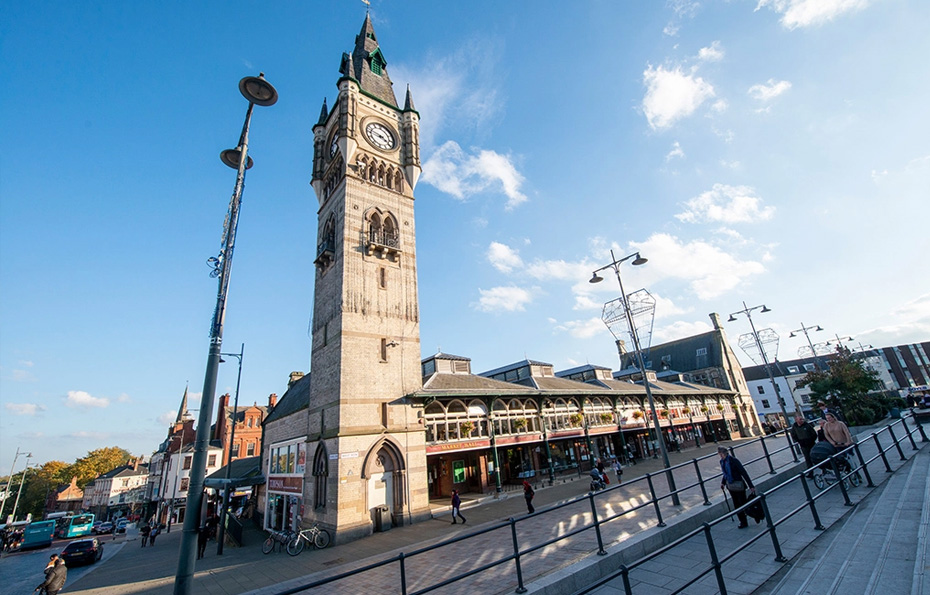 This beautiful market town is located in County Durham, in the North East of England, and boasts a rich Victorian heritage. Darlington is famed for its railway history, having claim to the first steam-powered passenger service.
If you choose a new build in Darlington, you'll find the town and its surrounds are a wonderful and charming place to live. Its pedestrianised and compact town centre is a great destination for residents and tourists alike, attracting many people to its iconic railway museum and local markets.
With a bustling centre with thriving independent businesses and very high employment rates, a new house in Darlington is a great choice for those in search of their first home or people hoping to relocate to a pleasant area packed with opportunity. Darlington was ranked the 7th best place to live in the UK Quality of Life Index in 2015, and living costs are comparatively low when looking at other top cities in the index.
Things to do if you buy a new house in Darlington
When it comes to things to see and do if you buy a new home in Darlington, this quaint community provides the perfect place for shopping, food and drink, nightlife, plus a bit of history and sightseeing. Crowned by its clock tower and brimming with historic buildings and landmarks, the centre is an incredibly alluring destination here in the UK.
For art and entertainment, there is the Edwardian Civic Theatre, the Arts Centre, and The Forum Music Centre where there are regular gigs and performances. If you're a lover of the great outdoors, a home in Darlington is ideally located with easy access to parts of the Yorkshire Dales, the North Pennines, Nidderdale, and the North York Moors. England's North East coastline also offers numerous beaches to enjoy in the summer.
Those who call Darlington home are also close to the M1 motorway, so day trips to nearby towns and cities (such as Durham, Newcastle upon Tyne, Richmond, Harrogate, and Wetherby) are very easy. So, why not take a look at our new build houses for sale in Darlington and discover just how convenient our Keepmoat locations are?
Darlington Transportation
There are a number of bus routes that can take you in and around the town centre, as well as buses servicing other parts of North Yorkshire. There are also additional bus services running in the summer to Castleton, Danby, Whitby, Scarborough, Swaledale, Hawes, Ribblehead, Ingleton and other destinations in the North York Moors.
If you travel regularly within the UK, buying a new home in Darlington gives you excellent rail links. From Darlington Train Station you can travel easily to major stations in the UK, such as Newcastle, London King's Cross, Aberdeen, and Edinburgh. The nearest airport, Durham Tees Valley Airport, is located less than 20 minutes away by car, so international travel is extremely convenient for residents in the area.
Darlington Education
Located by Central Park, north of the town centre, is Darlington College and Teesside University Darlington. Further afield is Durham University and the main Teesside University in the centre of Middlesbrough. Along the M1, students can also commute to the University of Newcastle in less than an hour.
There are several great primary and secondary schools to choose from for families buying a new home in Darlington who are looking for the best education for their children. If you are looking for houses to buy in Darlington and want to know more about schools in the area, you can use the school finder on the Darlington Borough Council website.
Why new homes give you more
Continue reading
Explore New Build Homes & Developments in Durham

Why choose a new build home in Durham?

New Build Homes near Chester

Why choose a new build home near Chester?
Why choosing Keepmoat for your next home will be one of the best decisions you'll ever make.