New Build Homes in Newcastle
Discover new homes in Newcastle upon Tyne
2, 3 and 4-bedroom properties available
Innovative, stylish & spacious interiors
Excellent schools, transport links and amenities nearby
Explore new build homes and developments in Newcastle
Newcastle is a compact yet vibrant city packed full of history and culture. There truly is something for everyone, so it's easy to see why so many are looking to make a new home in Newcastle.
Whether you're a first-time buyer or an existing homeowner looking to relocate to your forever home, our stunning new build developments can make your dreams of a home in Newcastle a reality. We have a mix of properties close to the city centre and in the surrounding suburbs. You can take your pick of 2-4 bedroom semi-detached and detached new homes in Newcastle to suit your family size and needs.
Why choose a new build in Newcastle?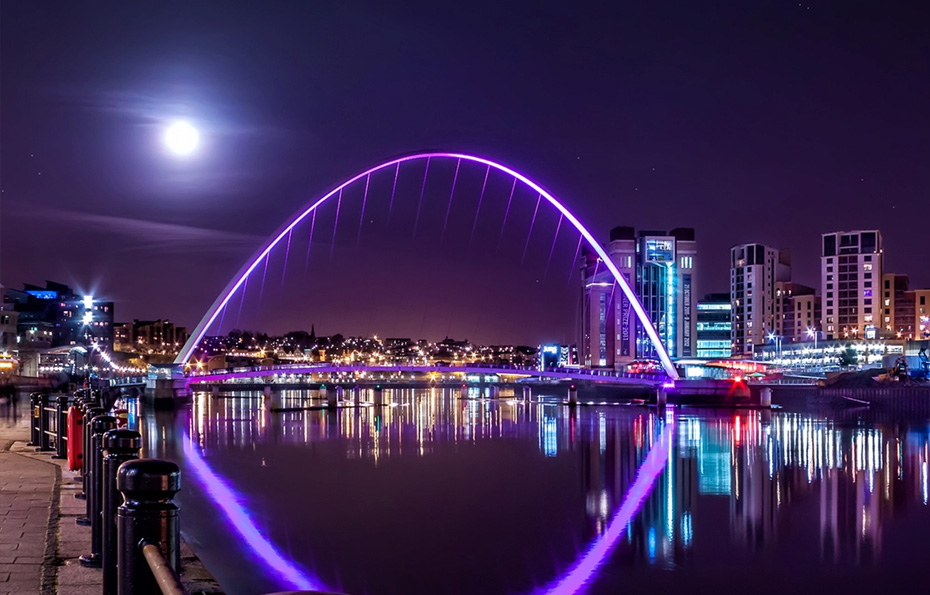 Newcastle upon Tyne is home to around 300,000 people – making it the most populous city in the North East. It takes its name from a castle built in 1080 by the son of William the Conqueror. Over the centuries, it has been a major centre for trades such as wool and coal. It has also established a long-standing name for itself as a port and shipbuilding city.
Today, it's famous for the Tyne Bridge, Newcastle United Football Club and nearby historical sites like Hadrian's Wall. With so much character, personality and no end of things to do, it's no surprise that new builds in Newcastle are a hot commodity.
Things to do if you buy a new home in Newcastle
Thinking of buying a new home in Newcastle? You'll truly be spoiled for choice when it comes to things to do. Newcastle is renowned for its nightlife, making it a prime destination for socialites of all ages and interests. And it doesn't stop there. You'll also have a fantastic range of theatres and music venues as well as a growing number of premium restaurants and eateries to explore.
History lovers will have the ultimate day out at the open-air Beamish Museum, where you can get a taste of what it would have been like to wander North East villages and towns in days gone by. The Discovery Museum offers a trip into the city's maritime history, science and more, while The Life Science Centre provides an exciting glimpse of the future.
Newcastle also hosts the Great North Run half marathon every year. It draws an enormous crowd of runners as it snakes through this beautiful city. All this and more will be right on your doorstep if you opt for a new house in Newcastle. Get in touch with our experts today to find out more.
Transport in Newcastle
Newcastle International Airport is accessible via the Tyne and Wear Metro, making it a very convenient place to jet off on holiday from. There are destinations in Europe, Asia and North America.
The Metro covers much of the Tyne and Wear region while Newcastle Central Station offers direct services to Liverpool, London, Inverness and Plymouth.
Connecting with the A1, Newcastle offers easy access to Edinburgh, London and everything in between. Within the city itself, there are three main bus companies and two major bus stations.
Newcastle has also worked hard to establish itself as a cycling city, with a major strategy in place since 1998 to continually improve accessibility for cyclists.
Whatever reason you're travelling for, you'll have no trouble getting around if you buy a new home in Newcastle.
Education in Newcastle
The city is home to two universities: Newcastle University and Northumbria University. The former was established in 1834 and is part of the Russell Group, while the latter became a university in 1992 and quickly earned itself an excellent reputation.
For families with children who are looking for a new home in Newcastle, you can expect excellent educational facilities that meet the needs of all age ranges.
Why choose Keepmoat for your new build house in Newcastle?
Check out our reviews to see what other homeowners have to say about us. Here are a few more reasons we're in the best position to help you find your ideal new home:
Find out more about our new build developments in Newcastle upon Tyne
If you can picture yourself at home in a Newcastle new build, why wait? Simply get in touch with one of our house-buying experts today to discuss any available places that might be suitable and register your interest.
You may also find answers to some of your questions in our FAQs.
Why new homes give you more
Continue reading
Discover new homes in Derby

Why choose a new build home in Derby?

Explore New Build Homes & Developments in Durham

Why choose a new build home in Durham?
Why choosing Keepmoat for your next home will be one of the best decisions you'll ever make.