Trainees and apprenticeships
6% of our employees are apprentices, trainees or graduates.
A strong foundation for career development
We are proud to be a member of the 5% Club. This means we are committed to at least 5% of our employees being apprentices or trainees in 'earn and learn' positions within the business, or through our subcontractors and partners.
Studying a vocational qualification and learning the role as a trainee or apprentice on the job, while being employed is a great option. That's why we're big supporters of Trainee and Apprenticeship opportunities within our business, wider supply chain and subcontractor networks.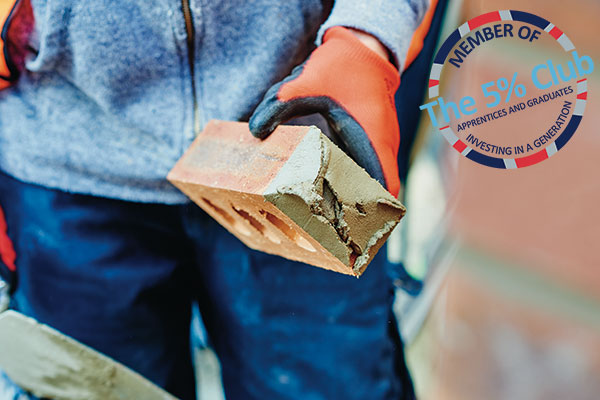 Bricklaying Apprenticeship Opportunities
Working in partnership with the National House Building Council (NHBC) and our trusted contractors, we will be offering a highly focused and intense bricklaying apprenticeship programme at the dedicated Training Hub located in Scotswood, Newcastle.
How they work
Apprenticeships used to be restricted to young people, however that's all changed. There's no upper limit to the age of an apprentice and even existing employees can use apprenticeships to learn or improve their skills to provide career progression. The number of female apprentices also continues to increase.
A typical Keepmoat apprenticeship will be office or site based and on a fixed term basis, generally ranging from 12 to 14 months, or 3 to 5 years for Degree Apprenticeship.
"I started at Keepmoat 3 years ago as an admin apprentice for the West Midlands. Whilst in that role I completed a BTEC in Business Admin. Now 2 years down the line I have just been recently promoted to Assistant QS."
Emily Weaver - Assistant Quantity Surveyor
During an Apprenticeship you will gain real knowledge, skills, and experience required for your specific career, and possibly professional accreditation. You'll also be constantly developing your transferable technical skills and your soft skills, which are highly valued by employers. These include communication, teamwork and problem solving, as well as knowledge of IT and the application of numbers.
All of this can provide a long-term career path and increase your earnings potential and future opportunities.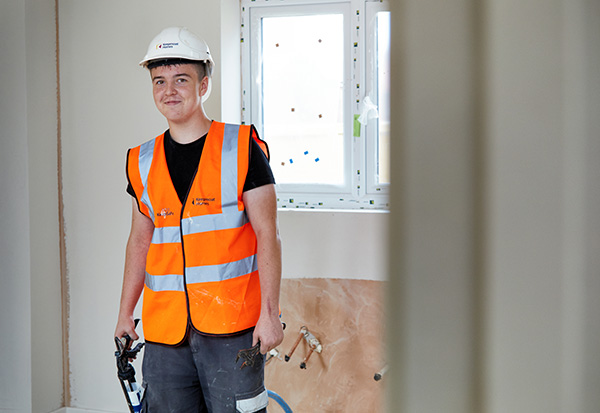 Frequently asked questions
Apprentices learn a trade or job and gain essential skills and qualifications while they work and earn.
We offer industry-competitive wage rate, supported by a good benefits package. We also recognise the achievements of our apprentices by nominating them for industry awards.
There are four different levels of apprenticeship:
Intermediate - equivalent to five good GCSE passes.
Advanced - equivalent to two A-level passes.
Higher - equivalent to the first stages of higher education, such as a foundation degree.
Degree - comparable to a Bachelors or Master's degree.
Your training is funded by contributions from the government and your employer.
You can apply to become a Keepmoat apprentice, if you are:
Aged 16 or over
Living in England
Not in full-time education
Clear about the type of career you wish to pursue
Willing to commit to work and study, but would prefer a more practical and work-related approach to learning
Ready to start work with an employer, and be based in the workplace most of the time
Well organised and able to cope with the competing demands of work and academic study at the same time
Ready to be assessed through a mix of assignments and written work, including essays, reports, practical exercises, end tests, and exams