Moving in and maintaining your home
At last, moving day is in sight. An exciting new life in your first ever home awaits – once you've unpacked all the boxes of course.
Moving into your home
At last, moving day is in sight. An exciting new life in your first ever home awaits – once you've unpacked all the boxes of course. Here are a few moving day tips to make your first day in your new home run smoothly. We all know moving can be a stressful time, and one of the most common questions we're asked by new homeowners is "how can I make moving day easier?". So, here are 11 of our top tips to make moving day a breeze.
1. It all starts with the packing
When should I start packing to move house? Rule number one – start packing early! Getting everything packed and organised well ahead of time is the best way to avoid moving day panics. So, how do you pack up a house to move?
We'd recommend packing room by room and labelling everything. You'll be glad you did when your boxes arrive at your new home.
Have a clear out. Don't waste time and effort moving junk. Plus, who wants to clutter up their brand new home? If you don't need it, recycle it, sell it or bin it.
Don't overload things. Remember you, or someone else, has got to carry the boxes safely. Put heavier things in small boxes and fill big boxes with light things.
2. Professional removals or do it yourself?
In the weeks before moving day you need to decide who you want to help you move. Professional removals companies vary in price, and it's worth getting a few quotes. Or you can always hire a van and get help from friends and family. Whether you're getting professional help or hiring a van, remember to book these well in advance.
3. Consider what you'll need in your new home
As well as packing, you should also think about what you'll need, and what you won't need, in your new home. For example, you may be moving into a new build home with built-in appliances, meaning your current ones are no longer needed. You should make arrangements to sell or get rid of these ahead of the move, so you aren't moving bulky items that you don't need. Take note of what is included in your new home and what you may need to buy, so you can be sure you have everything you need once moving day comes around.
4. T-minus 4 weeks – time to get organised
If you're using professional removals, they need to be booked by now. Now's a good time to start notifying friends and family before things get too hectic. Don't forget to notify your GP, dentist, schools, employer, utilities suppliers, DVLA, mobile phone company, TV and broadband supplier, banks and credit cards as well as insurance companies. It's a good idea to take a look through your bank statements, as everyone you've got a direct debit with will need to know your new address.
5. The week before
Most of your worldly possessions should be boxed up and ready to go. You'll need to give the council a call to set up your Council Tax payments. If you receive Child Benefit, or any other benefits, make sure you inform HMRC too. If you don't you could lose out on what you're entitled to.
6. Know where it's got to go
Print off a floor plan of your new home, or ask your sales adviser for one. This will help you know where things need to go and make sure big items fit, meaning no nasty surprises on moving day.
7. Pack a moving essentials bag
We'd recommend packing a separate bag for moving day containing the essentials you'll need on the day or valuables you don't want on the moving truck – think phone chargers, any medication, toilet rolls and toiletries. It's also handy to pack a change of clothes for the next day, as you may not get around to unpacking straight away. A small overnight bag or suitcase for each member of the family will definitely ease the stress of digging around for essentials in your new home.
8. Make arrangements for children and pets
Moving day is undeniably busy and usually a little bit stressful – having kids and pets running around can add to this. If possible, make arrangements for your children and pets for the bulk of the move. Ideally, have a friend or family member with a flexible schedule look after them for the day. This frees you up to focus solely on the move and get all the stressful parts out of the way before the whole family reunites in your new home.
9. Wear comfortable clothes
Moving day is usually much warmer work than you anticipate – particularly if you're handling the physical part of the move yourself! Make sure you're wearing cool, comfortable and practical clothing on the day. Comfortable shoes are also a must as you'll be on your feet for most of the day.
10. Don't forget to feed the troops – and yourself
Moving can be thirsty work and you'll need all your energy, so make sure everyone is well fed and watered. It's a good idea to prepare a moving-in day picnic with everything you need to keep you going. A cooler with cold drinks and quick, easy snacks will also be much appreciated on the day. And remember, the secret to any successful move is to make sure the kettle is always the first thing to be unpacked.
11. Moving-in day
It's here. The day you've been waiting for. Our Sales Executive will be on hand to help in any way they can and, once the legal completion has gone ahead, your new home is all yours.

Maintaining your home
Just one of the benefits of buying a brand new, high-spec Keepmoat home is how easy they are to look after.
Looking after your driveway
Your drive is made from bituminous macadam. It's an oil based material that can take a few months to harden up. And in warm weather can soften up a little. We'd recommend hosing the drive down in really warm weather and avoid, where possible, placing anything too hard or heavy on the drive, such as skips, ladders etc.
Your lawn and gardens
Your lawn is new and will need a little love and attention to keep it looking great. Regularly watering in dry spells and the occasional feeding will make a huge difference and really help the lawn establish itself and develop strong and healthy roots. If your plot has trees, shrubs and plants, again a little care will make a big difference. Feeding and watering as well as timely pruning will encourage healthy growth. More details of how to care for your garden can be found in your Home User Guide.
Keeping your fencing looking great
All the timber we use in our fencing is pressure treated and won't need any further preservative treatment. It's ready to stain if you want to change the colour. Like everything else in your home, your fence is new and may need a little time to settle. It's why we recommend that you don't fix washing lines etc. to your fence or fence posts. Keeping gates closed when possible, means they don't sway in the wind and prevents gateposts becoming loose too.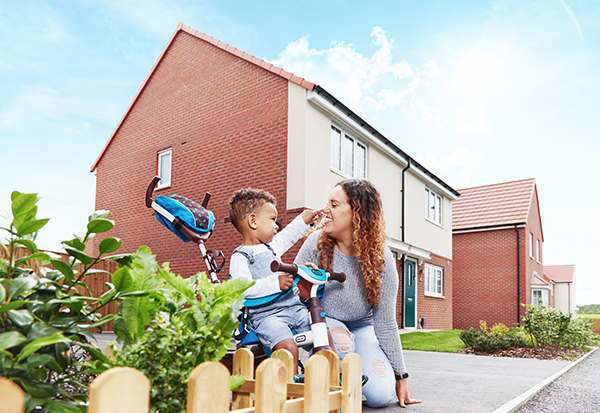 Looking after your doors and windows
Your new home has the very latest PVC-U high performance doors and windows. They've been carefully selected to not just look great, but provide excellent energy efficiency and security features. Plus they're easy to look after too.
To keep your frame looking good all you need is a little soapy water. Washing up liquid is perfect. Non-abrasive household cleaners can be used for more stubborn stains, but never use abrasive cleaners or wire wool. This will damage the surface of the PVC-U.
It's a good idea to oil the moving parts at least twice a year. Our windows expert recommends oiling hinges at the rivet points with light multi-purpose oil. Other metal components should be coated with petroleum jelly. Please do not use spray oils.
TIP: To avoid condensation building remember to keep your home well-aired. Open each window for a short time each day.
Your plumbing and heating
We'll give you a full rundown of how your heating system works in your home demonstration before you move in. As a guide we'd recommend:
DO NOT switch off the system at the fuse spur. This shuts down the pump and can cause damage.
Try to keep constant moderate temperature throughout your home. This will help the drying out process and is a more cost effective way to heat your home.
Remember to book an annual service with a Gas Safe registered engineer to keep your heating in good condition.
Please DO NOT attempt to move any radiators or drain down the system without letting us know first as this affects your warranty.
If you're going to be out of the home for a long period of time over the winter months make sure the radiators are set to the frost indicator on the thermostatic radiator valves.
Your heating system is brand new and will require a period of running in. This may mean the radiators need to be bled. If you need any help, call our customer care team.