New Build Homes in Stoke-on-Trent
Discover New Build Homes & Developments in Stoke-on-Trent
If you're looking for a central location with excellent amenities and things to do, why not consider a new home in Stoke-on-Trent? Packed full of history but with all the modern facilities you could need, a new home in Stoke-on-Trent offers something for everyone.
For new build homes in Stoke-on-Trent, look no further than Keepmoat. We offer a great selection of 2-5 bedroom new builds in Stoke-on-Trent, to suit a range of buyers and family sizes. They're all set within stylish, safe and secure neighbourhoods, and all are beautifully designed by Keepmoat.
Why choose a home in Stoke-on-Trent?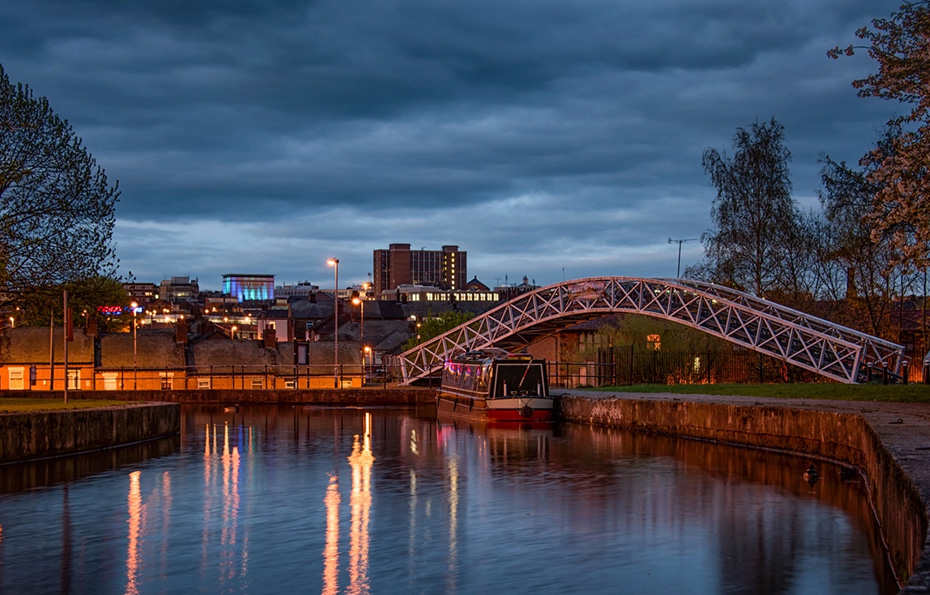 Stoke-on-Trent is a city in central England situated next to the M6 motorway, making it a straightforward commute to some of the UK's major commercial hubs. Residents are also less than an hour away from the southern fringe of the Peak District, so there's a great mix of both city and countryside. The metropolis of Stoke-on-Trent is made up of six separate towns and each of these have their own town hall – Hanley (the city centre), Burslem, Fenton, Longton, Stoke upon Trent, and Tunstall. These unique areas form an important part of British history, with a past that has been built on our nation's famous pottery industry. The historical city has respectfully claimed the title of 'World Capital of Ceramics' and is recognised across the globe, attracting tourists and visitors from far and wide each year.
Additionally, Stoke-on-Trent house prices are amongst the lowest in the country, giving young families and first-time buyers an affordable opportunity to get on the ladder or relocate for a better quality of life. Living costs are also lower than average so, if you want to reduce your outgoings and find inexpensive homes for sale, Stoke-on-Trent is a great place to start house hunting. Why not browse our full range of new build houses in Stoke-on-Trent?
Things to do if you buy a new home in Stoke-on-Trent?
If you are looking for a new home in Stoke-on-Trent, you will not be disappointed with the things to see and do on your doorstep. Famed for having more than one town centre, the city is an urban melting pot of communities and bustling hot spots with places to shop and eat within easy reach no matter where you decide to live. Of course, the city is recognised for its rich history in pottery, so visiting The Potteries Museum & Art Gallery is a must for every newcomer to Stoke-on-Trent. Inside the museum are local handmade ceramics, decorative displays, artwork, and a WWII Spitfire. If you're interested in the local history, you should also visit The Gladstone Pottery Museum set within a former Victorian factory.
Stoke-on-Trent is home to picturesque, leafy suburbs – so you will find plenty of green space to walk around or just enjoy some wonderful views. It's also one of the greenest places to live in the UK and some of the best locations for weekend walking are Longton Park, Dimmingsdale, Burslem Park, and Park Hall Country Park. With twin canals running through the city, there are also a number of breath-taking canal routes to explore. To top it off, the Peak District National Park is within easy reach, so you will never be too far from a big outdoor adventure. All this and more is just waiting for you to explore if you choose a new home in Stoke-on-Trent.
Stoke-on-Trent Transportation
The bus service in Stoke-on-Trent and across its six towns is amongst the most advanced in the UK. With a smart system in place, regular travellers can now use a smart bus pass to get around, and First Bus Potteries also accept contactless payment on all their vehicles.
If you're looking at new homes in Stoke-on-Trent with plans to commute, you'll also find plenty of transport options. For commuters or out of town travel, Stoke-on-Trent Train Station has operators servicing multiple UK locations, with regular trains to Crewe, Derby, Manchester Piccadilly, Bristol Temple Meads, Bournemouth, London Euston and further afield. The nearest airports from Stoke-on-Trent are Manchester Airport (51mins), East Midlands Airport (59mins), Liverpool Airport (1hr 13mins) and Birmingham Airport (1hr 2mins).
Stoke-on-Trent Education
Home to Staffordshire University and less than 15 minutes away from Keele University, there's easy access to higher education for students living in Stoke-on-Trent. With the M6 motorway on your doorstep, travelling to other major universities (such as Liverpool, Manchester or Birmingham) is just as convenient.
If you're looking to buy a new home in Stoke-on-Trent to move to with a family, there are plenty of excellent options available. With over 60 primary schools and a number of excellent secondary schools, finding a good catchment area with a family-friendly neighbourhood won't be a problem. For desirable areas close to local schools and the best new homes Stoke-on-Trent has to offer, get in touch with Keepmoat today. Our beautifully landscaped developments are ideal for families with children and have superb transport links to schools, nurseries and colleges around the city.
Why new homes give you more
Continue reading
Discover New Homes & Developments in Middlesbrough

Why choose a new build in Middlesbrough?

Discover new homes in Liverpool

Why choose a new home in Liverpool?
Why choosing Keepmoat for your next home will be one of the best decisions you'll ever make.