New Build Homes in Hereford
Discover New Home Developments in Hereford
Surrounded by stunning scenery and with a thriving, historic city centre, it's no surprise so many people are looking to make a new home in Hereford. If you're considering buying a new build home in Hereford, Keepmoat offers semi-detached, terraced and detached homes to suit a range of buyers and family sizes.
Hereford offers plenty of peace and quiet for those who wish to escape the urban sprawls, yet with all the amenities you could desire for city living. If you're hoping for a place to raise a family with stylish new homes and developments, Hereford and the surrounding areas offer a wonderful way of life.
Why choose a new build in Hereford?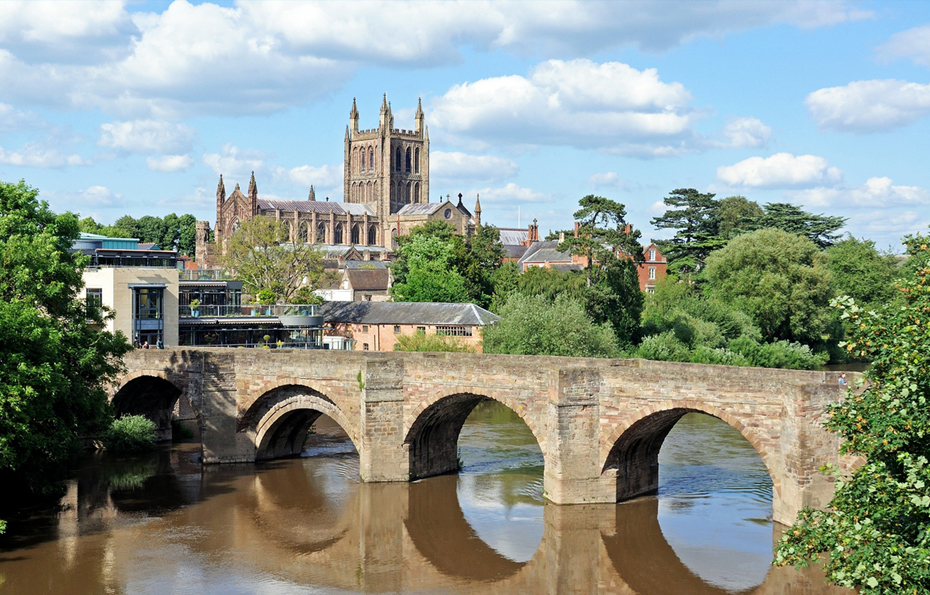 Hereford is a charming cathedral city located in the West Midlands in the heart of the beautiful county of Herefordshire and next to The Wye Valley. Known to locals and visitors as a walker's paradise, this stunning corner of the country is the kind of place where soul-soothing scenery comes as standard. For those who love the outdoors, a new home in Hereford ticks all the boxes.
On top of the scenery, there's so much on offer for residents, including the draw of excellent employment opportunities, a great level of disposable income for average households, top schools for children, and access to some of Britain's best food produce. From the famous Hereford beef and local farmyard ciders to organic goods and award-winning cheeses, there's plenty for foodies here. All this and more is right on your doorstep if you choose a new build in Hereford.
Things to do if you buy a new home in Hereford
Although reactively compact, the city of Hereford is a fantastic place to spend your free time with lots of exciting things to see and do for those who choose to buy a home here. An iconic sight to visit is the Hereford Cathedral, instantly recognisable with its Gothic exterior. Also worth visiting is the 18th Century mansion of Berrington Hall, the Hereford Cider Museum, and the very distinctive postcard landmark of The Old House located on the High Street.
Food and drink lovers will find the centre to be filled with great bars, pubs and restaurants (including plenty of steakhouses to taste the local beef). For shopping, you won't be disappointed either as the Old Market Shopping Centre is a hub of entertainment for residents, featuring high street names, places to eat, as well as a cinema. The Hereford Buttermarket, set within a stunning Grade II listed building, has been the best place to pick up regional produce since 1860.
Although house prices can be high in this part of the West Midlands, there are some wonderful and affordable new builds Hereford has to offer, particularly for first time buyers. If you're looking for a good quality of life with plenty to do and a superb choice of new houses for sale, Hereford is a great place to start your search.
Hereford Transportation
As a city, Hereford is well connected by road to neighbouring towns such as Kington, Ledbury, Leominster, Mortimer, Ross-on-Wye and Weobley, making it a suitable place for work commutes or leisurely travel. The bus service is frequent, with convenient routes in and around the city.
If you buy a new build in Hereford, you can also enjoy easy travel around the country. Trains run regularly from Hereford Railway Station to major destinations such as Birmingham, Worcester, Manchester and London's Paddington station. You can find a number of different cycle routes on the Herefordshire Council website, plus there are Park & Cycle or Cycle & Ride facilities at the station and various carparks to make getting on your bike convenient and easy.
Hereford Education
One of the biggest draws of buying a new home in Hereford is the excellent quality and choice of schools, making this city a top choice for raising a family. Not only are primary and secondary schools some of the best in the West Midlands area, but the council may also be able to help with free transport for kids (aged 4-16 years) living over a certain distance from their school. Herefordshire Council also offers a Vacant Seat Payment Scheme, which could help to reduce travel costs for getting your kids to and from school every day.
The nearby University of Worcester is a short train ride away for young adults entering into further education. On top of that, there are also some fantastic local colleges such as Hereford College of Arts and Herefordshire and Ludlow College.
Why new homes give you more
Continue reading
Discover new homes in Glasgow

Why choose a new build home in Glasgow?

Discover New Build Houses & Developments in Oldham

Why choose a new house in Oldham?
Why choosing Keepmoat for your next home will be one of the best decisions you'll ever make.