Gina Flanagan,
Canterbury Park, Huyton
I recently purchased a house through Keepmoat homes and I am delighted with it
I recently purchased a house through Keepmoat homes and I am delighted with it. As a first-time buyer there were many things I was unsure of but Keepmoat supported me through every step of the way to make sure the process was as smooth as possible.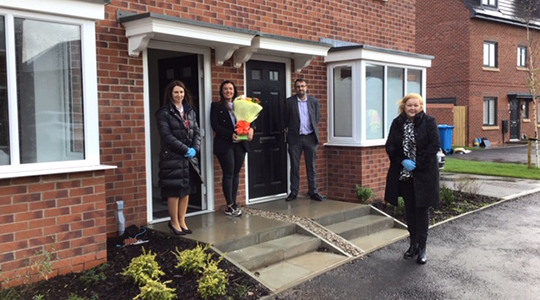 The home sales executive Lisa has been fantastic throughout, she has gone above and beyond offering support and advice and keeping me up to date with every stage of the development.
Due to the unforeseen circumstances of the COVID-19 lockdown, the building work and my move in date were set back but Keepmoat were still on hand to keep me informed and supported throughout the site closure.
I chose this area as it is close to friends of mine, has many surrounding amenities and is also a short journey to work. I looked at other developments within the surrounding areas and found that Keepmoat offered a lot more for a more affordable price.
I have fallen in love with my home, it has exceeded all of my expectations and will make a fantastic future family home. Phil, the site manager and his team have done a brilliant job and have been on hand and happy to help throughout the moving in process. I am currently making the final touches to my home and can't wait for it to be finished.
Although there is ongoing building work the road is quiet and the neighbours are all friendly and have shown good community spirit by welcoming me to the area. One couple posted a lovely card which I thought was a kind gesture.
I am most looking forward to spending Christmas here and can't wait to put my Christmas tree in the huge bay window.
I would most definitely recommend Keepmoat to anybody wanting to buy a new home. I have already recommended them to friends of mine who are now in the process of buying a home on the same development. I'm sure they will be extremely happy just like I am.