THE FUTURE OF SUSTAINABLE LIVING
Echo homes created for you by Keepmoat
Designed to help you use less energy, with improved thermal performance, reduced energy wastage and enhanced energy efficiency, each Echo home by Keepmoat incorporates low-carbon renewable technologies, light-airy rooms and future-proof living spaces
Echo developments feature more open spaces, trees and hedgerows, wildflowers and wildlife habitats. Our sustainable designs support cleaner, healthier low-carbon living, it's the new way to live, work and play in perfect harmony with nature.
What defines an Echo home?
> Power - how it is made, used and stored
> Flow - how heat and air moves around the home
> Organic - the environment around the home
> Radiate - how heat and sunlight are used in the home
> Circulate - reducing energy and water use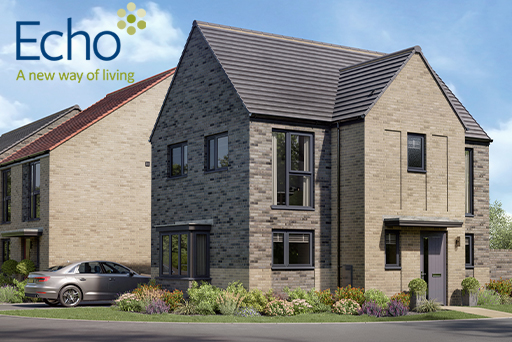 Features and technology in your home built into every Echo home*:
High spec insulation
Insulation helps retain the desired temperature within the living spaces, reducing the need for excessive heating in winter. Meaning energy savings and lower bills**.
Air source heat pumps
Using heat from the environment to heat the home, and not fossil fuels, air source heat pumps dramatically reduce carbon emissions.
Exceptionally energy-efficient, producing more heat energy than the electrical energy they consume, mean lower energy bills and long-term cost savings**.
Ventilation fans
Fans within the home play a number of very important roles. Providing a continuous supply of fresh air, they promote a healthier indoor environment by reducing indoor air pollutants.
They also help control excess moisture and humidity, which can damage the structure of the home and lead to the growth of mould and mildew. Therefore, efficient ventilation is crucial in maintaining a dry and comfortable living space.
Solar Panels
This is a proven and sustainable way to produce clean electricity. Reducing carbon emissions and improving air quality.
Smart home automation
Through a simple, centralised control system or smartphone app, homeowners can effortlessly manage various aspects of their home's heating in a way that's convenient for them. Even when away from the property. By analysing daily routines, the system can also optimise the heating to save energy.
Smart hot water cylinders
These intelligent hot water cylinders can be controlled and customised via a smartphone and can also learn usage patterns and preferences, allowing them to heat water at the most cost effective times. Reducing energy consumption and saving on utility costs.
Integrating seamlessly with renewable energy sources, they can efficiently utilise excess energy, making them even more sustainable.
EV Chargers
With the rise in electric vehicle ownership and the phasing out of new petrol and diesel car sales, a home EV charger is fast becoming an essential for every home.
Home charging points reduce the reliance on the public charging network, and when used alongside the home's solar panels, provide convenient low cost per mile motoring.
Aerated taps
Designed to offer more efficient water usage and reduce waste, aerated taps mix air with water, creating a consistent stream that feels just as strong as a regular flow, despite using less water.
Lower utility bills are just one benefit. With some parts of the UK facing water scarcity, aerated taps are a simple yet effective way to conserve precious water.
Hedgehog highways
Hedgehog highways are small gaps or tunnels in fences and barriers to allow hedgehogs to roam freely between gardens and habitats. They help our spiky little friends to forage, breed and seek shelter across a larger area.
This increased mobility promotes genetic diversity and helps hedgehog populations thrive. Plus, these highways play a role in local pest control, as hedgehogs feed on insects harmful to gardens.
Hyper fast broadband
The high internet speeds of hyper-fast broadband are an essential ingredient in how way we connect and communicate. And its benefits can be felt across the home and the wider community.
From high-definition streaming and gaming to powering productivity for those working from home, even enabling internet-connected devices to help manage our homes, a fast, reliable internet connection is a vital part of modern life.
To find out about our Echo homes near you, talk to your Sales Executive today.
*Specification could differ by plot and development. Energy savings may vary based on type of energy used, consumer usage and fluctuations in the price of energy.
** Savings may vary based on consumer usage and fluctuations in the price of energy