Anastassia Kessareva,
Spirit Quarters, Coventry
We are very grateful to the Keepmoat for all their help and very happy we are in our new home
What we like the most about the Keepmoat Homes is that you can purchase beautiful houses at affordable prices. Nevertheless, the Keepmoat team has provided us with support we needed as the first-time buyers and been very helpful and approachable on the whole journey.
The houses are covered by 2 years builder's warranty and 10 years NHBC. Availability of help -to-buy with 5% deposit at the time of purchase helped us to get on the property ladder before the age of 25.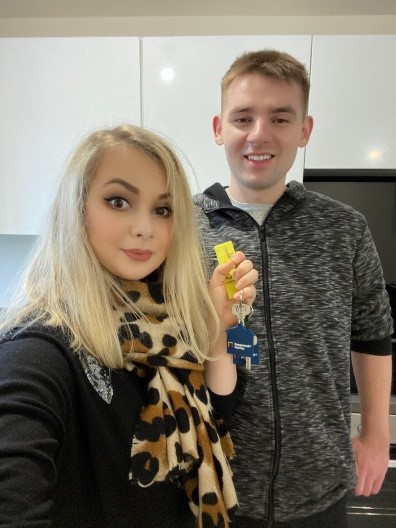 So far, the build quality is great, no major issues and not many snags. It was great to receive the free flooring, turf in the garden and outside tap as a reward for exchanging within a month.
Keepmoat Homes offers a good range of finishes and upgrades and you can have a house the way you like it even before you move in. The reservation process is smooth, we did receive a lot of help which comes in handy for the first-time buyers.
The panel mortgage advisors and solicitors are available, and communication between us, Keepmoat, mortgage advisor and solicitors was quick and easy. Keepmoat was available at all times and replied whenever we needed assistance.
Exchange of contracts happened within a month and the house was ready on time and completion happened as agreed. We could never do it ourselves, Keepmoat, mortgage advisor and solicitors made it easy for the buyer and you don't have to walk this journey alone, they are there to guide you and assist on your way!
You will get a very detailed house demo and someone will be there to answer all your queries when you need it!
The night we got the keys we got some takeaway and had a few drinks in our new kitchen to celebrate! When you move in, the house looks welcoming, warm and ready to move in. It is an amazing feeling when you get the keys and walk through that door for the first time!
The first thing we did was open our welcome pack that was left in our kitchen. It is a lovely gesture to have a little surprise to welcome you into your new home! After that we danced in our kitchen as this was the happiest day of our lives!
The location was important, although we did not focus on specific areas. We like that our house is "tucked away" from busy roads and crowded areas. Nevertheless, the house is located in close proximity to stores, M6 and Coventry city centre.
The George house was a great fit for us - it was in our price range, semi-detached, with 3 bedrooms, 2 parking spaces and a fairly good sized garden. The master bedroom is absolutely gorgeous: it is spacious and gets a lot of light due to having 2 windows. We love that both bathrooms have windows and extraction fans, so moisture can escape and to prevent the mould growth. It is nice to have a guest bathroom downstairs too. 2 little storage spaces are available too, which is helpful to hide some things out of sight. We did not want to have an en-suite, instead we wanted to have a larger master bedroom, so we could have a larger fitted wardrobe - one of the reasons we chose The George over The Paxton.
We also loved the plot itself - it had a large garden, it was semi-detached and it is "tucked away"!! It feels very peaceful and quiet. We love to live in a new area with pretty houses around and green areas at the front of the house.
Our favourite room in the George is the kitchen - here we can cook gorgeous food, bake and socialise. Large window lets in a lot of light. It's nice to have a window in front of the sink. Kitchen is spacious and allows for various activities. We spend most of our day in the kitchen. It has a lot of room for storage and a large dining table, as well as having space for both a washing machine and a dishwasher. Glossy finish of the kitchen reflects a lot of light. There is an extractor fan as well as extractor hood which comes in handy when a lot of steam is produced when cooking or machine drying clothes.
We like that the Keepmoat thinks of the little things you didn't know you needed. We are looking forward to the summer - we will plant some flowers, get the garden furniture and do some BBQ! Hopefully we can host a little house-warming party after the lockdown ends!
Our advice is: don't be put off by the difficulty of the house buying process. You will get a lot of help on the way. Don't be afraid to ask the Keepmoat, mortgage advisor or solicitor if you don't understand something. You all work towards one goal - to get you into your new home!
We are very grateful to the Keepmoat for all their help and very happy we are in our new home