Interior design
18/09/2023
Transforming your bedroom into a stress-free space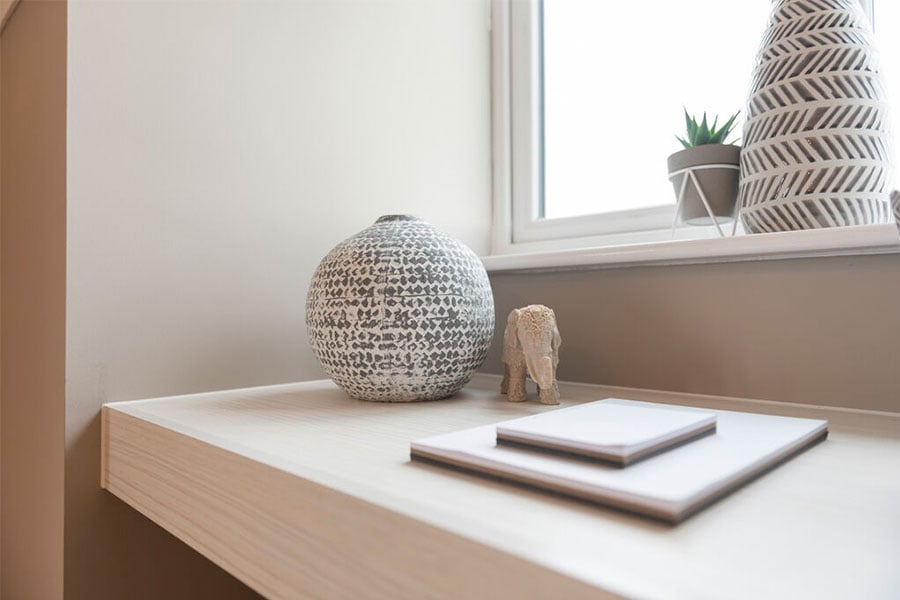 We spend a lot of time in our bedrooms, so it should be a space where you are able to relax after a long day. That's why you'd benefit from creating a calm and peaceful atmosphere where you can unwind and escape from your busy life. There are a few key elements that can contribute to helping your bedroom feel more soothing such as the colour palette to your choice of bedding to the lighting in your room. This blog will guide you through the ways in which you can transform your bedroom into a stress-free space where you can recharge.
Choosing a calming colour palette
One of the best ways to create a stress-free space is to choose a neutral or pastel colour palette, this way you will feel like you are in more of a calm environment as bold colours could overwhelm you and have an opposite effect.
Some good choices may be colours such as pale blues, greens or purples which promote that peacefulness that you want to have in your bedroom. Blue is said to have a calming effect that can help you to clear your mind of any stress and help you to get a good night's sleep also.
If a completely neutral environment is not for you, then why not try adding hints of other colour through artwork, pillows, or small accent decorations? This may also help to give your room a more personalised touch and make it feel like home.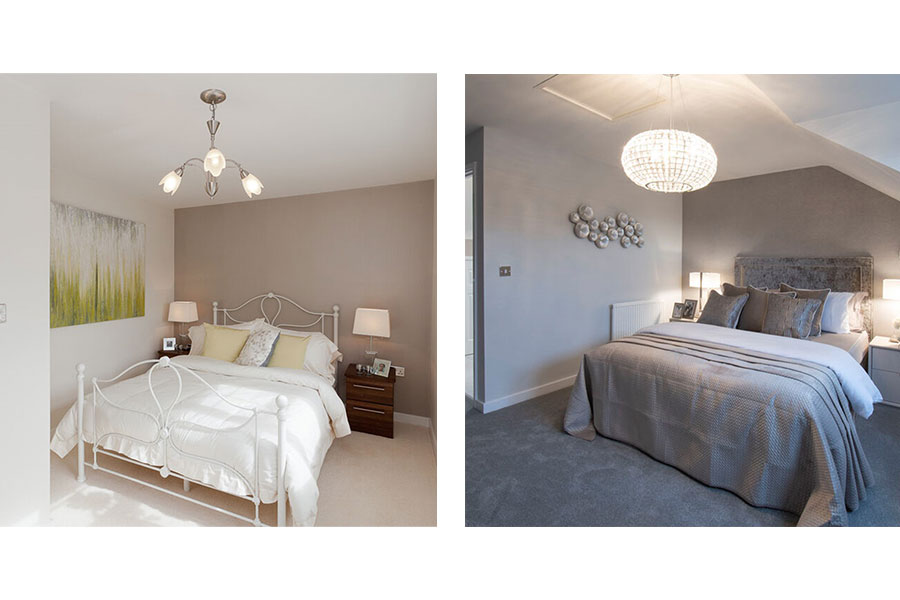 Keeping clutter to a minimum

Having a cluttered and unorganised space can often contribute to higher stress levels, meaning that you are less able to relax and feel calm. It is important to take the time to declutter your bedroom and create an organised system to store things out of sight.
Using storage systems such as containers that can be stored under your bed, baskets, and shelves can help to keep clutter to a minimum, so you are able to clear your mind and relax.
Although you want to create a relaxing space, it is still key to have some pieces of decor. This may be a few pictures with friends or a piece of artwork, or even a few decorations that fit with the theme of your bedroom. It is important to have things in your bedroom that make you feel happy and content to create that safe, tranquil space.
Choosing the best bedding for a good night of rest

Having comfortable bedding plays an important role in helping you to rest well and remain stress free. Although it may seem expensive at the time, it is important to invest your money in high quality bedding, as you will thank yourself later.
Choosing bed sheets that are soft and breathable, and having a mattress that is right for you are all key factors in helping you to feel at ease and well-rested. A comfortable mattress, pillows, and soft sheets are the key to comfort – the comfier your bed, the better!
Keeping your bedsheets smelling fresh is also important to alleviate stress so washing them regularly is a must. Creating a habit of making your bed everyday is also good to get into as this can help to reduce the stress when you come home as your bedroom is less likely to feel cluttered and untidy.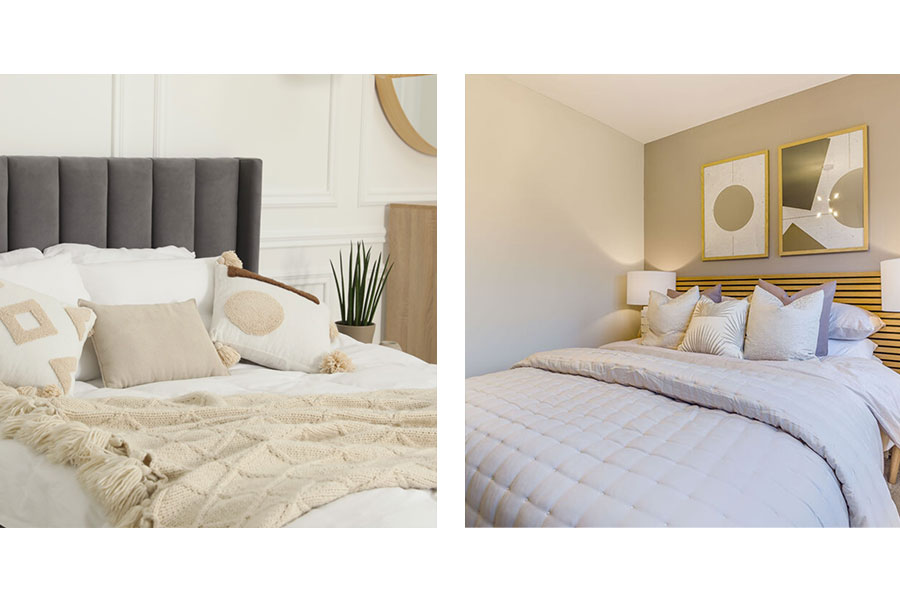 Bringing light and nature into your room

Creating a connection with nature can be very soothing and important in helping you to unwind at the end of the day. Adding plants that help to purify the air around you can help you to feel rejuvenated and lift your mood. Plants that can be good to have in your bedroom are snake lilies and lavender which can also bring in that fresh scent.
It is also important to have natural lighting coming into your room, as this will also allow you to feel connected with nature. Sheer curtains are also a good option as you can let in natural light whilst also maintaining your privacy.
Any artificial lighting that you have in your room should be soft and warm to create a cozy atmosphere that puts you at ease. Having harsh lighting can make you feel stressed and prevent you from being well rested. Having lamps or reading lights in your room are also a good idea for on a nighttime to help you to de-stress before you go to sleep.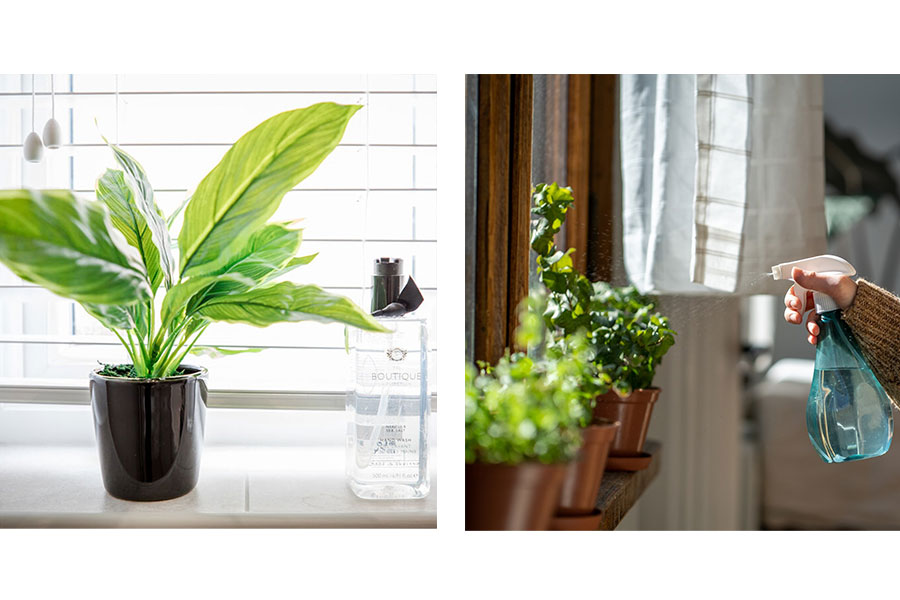 Introduce calming scents and sounds

Introducing a calming scent such as lavender and chamomile to your bedroom to create a tranquil aroma. You can do this by introducing things such as scented candles, essential oil diffusers, or linen sprays to help reduce stress levels.
You could also create a calming playlist of music or sounds that you can listen to help you feel at peace and unwind before going to sleep.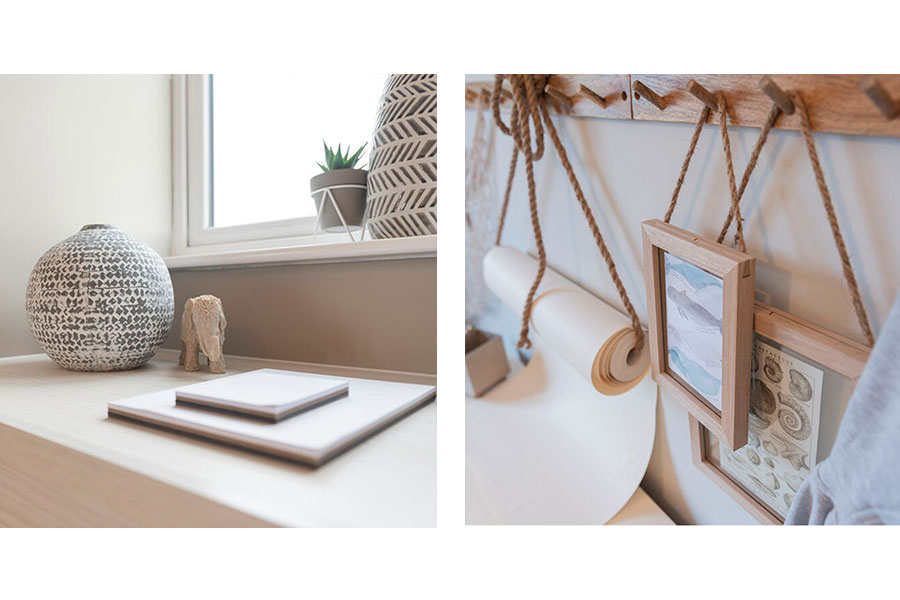 By creating a calming colour scheme, connecting with nature, ensuring your bed is comfortable, and taking up new habits, you can create a stress-free space to escape from your busy life. Even by taking small steps such as decluttering or adding some natural elements or scents into your bedroom, you are likely to feel more at ease which will allow you to sleep better and overall feel de-stressed.
Share your calming spaces with us on Instagram, tagging @KeepmoatHomes in your posts, or using the hashtag #Keepmoat, we'd love to see them!