Throwing the ultimate Halloween party at home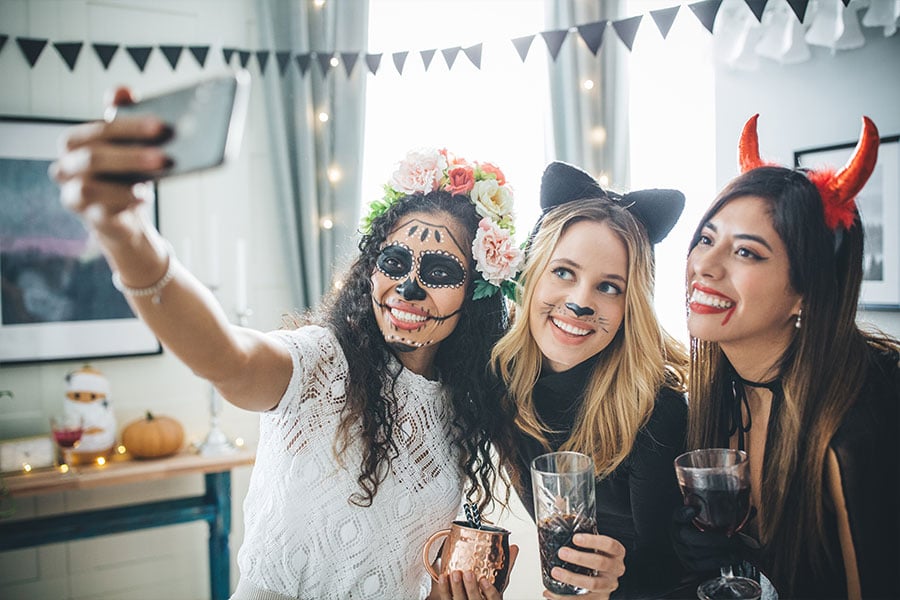 It's that time of year again when the evenings are getting darker, the trees are starting to look eerie, and the shops are being stocked with our favourite orange vegetables. If you're looking to throw a Halloween party to celebrate this scary season, we've shared a couple of tips to ensure you can pull it off in spooktacular style.
The Devil is in the Detail
The décor is probably one of the most important aspects to truly make your Halloween party a night to remember. Generic Halloween decorations that always go down a treat include spider webs (and spiders), glow-in-the-dark skeletons, candles, pumpkins, balloons and bunting. If you're feeling creative, you could have a go at making the decorations yourself, finding twigs that have fallen outside, using string for the cobwebs, or hanging pieces of material onto your wall or banister. Why not add a little humorous touch to your bathroom by writing on your mirrors in a red washable marker or crayon?
To really set the mood, purchasing a couple of inexpensive coloured spotlights and positioning them around the house, including the stairs, can really help set the scene. Green is probably our go-to colour for creating a spooky lair.
Just remember you don't need to spend a lot of money to make your home look the part, just some creativity, a little bit of patience and a lot of tape will do the trick!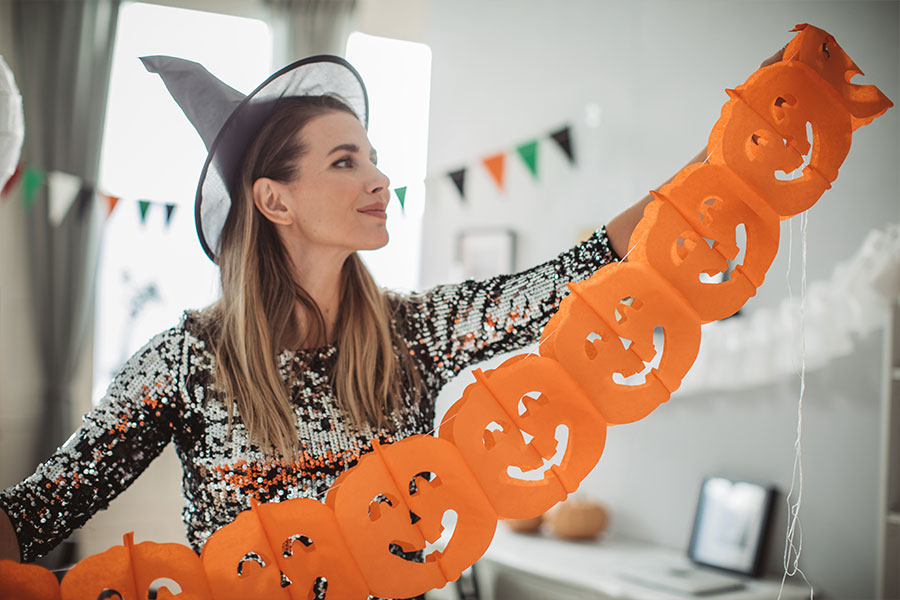 Tasty Treats
This is the area that many of us stress out about the most. If you're looking to go down the route of having a proper spooky, sit-down meal, keep the recipes straight forward and easy. Examples include pumpkin soup to start with, meat and ale pie for mains and a pumpkin pie for dessert – and make sure you check with your guests for any dietary restrictions, as there's nothing scarier than realising you haven't accommodated for them during the party.
Buffets are always a safe bet for any party, allowing people to snack on these throughout the night, but they can end up quite costly. Our advice is to keep it simple. Why not opt for a Halloween inspired drink, or a handful of themed finger foods – a good selection can be found here. A couple of these done really well will make the biggest impact and saves you having to spend ages in the kitchen preparing it all. Make sure you have a balance with some healthy options as well - drawing Jack-O-Lantern faces on some oranges could make for a great Halloween themed snack.
Don't forget to stock up on a couple of naughty treats – if not, you'll be having to perform a lot of tricks throughout the night.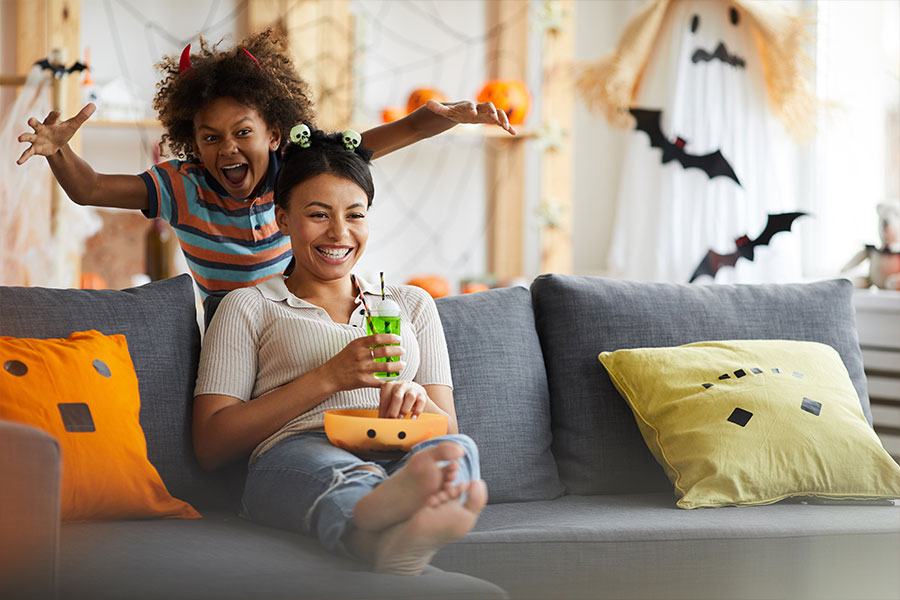 A Scarily Good Playlist
For any party, you'll need an amazing playlist to accompany it. To save you having to trawl through Spotify to find the perfect playlist, we've already done the legwork and pulled together one with a ton of variety that will please every guest and ensure they get into Halloween spirit – you can thank us later! Check out the playlist here.
Creepy Costumes
No Halloween party is complete without the costumes. You could pick a theme for your party to keep things simple, for example Vampires, Mummies or even a specific film or TV programme. If you do go down this route, once you have picked your theme make sure you really go with it and ensure all the decorations, activities, drinks and food relate to really tie the party together. Or you can allow your guest's imaginations to run wild and go with a generic Halloween themed party.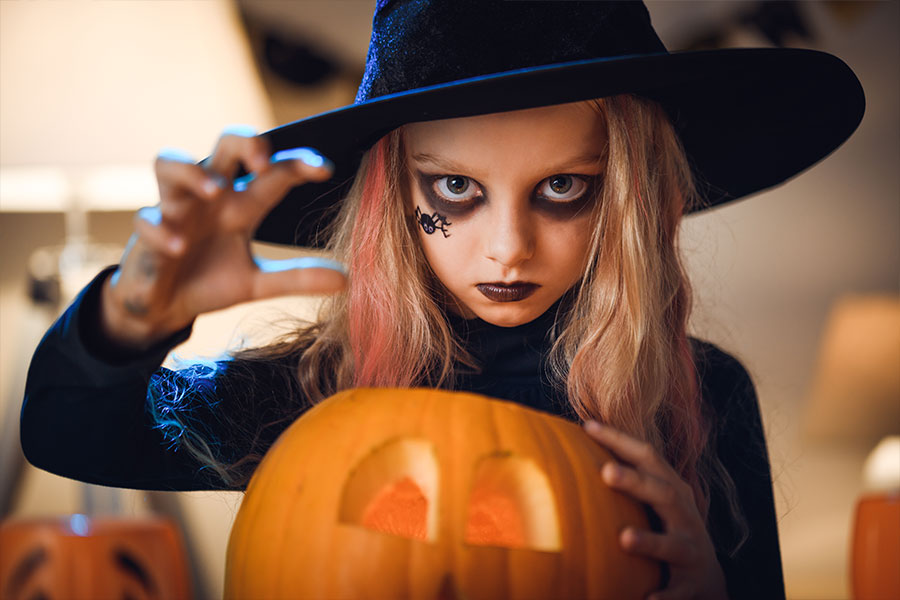 It's always fun to have a costume contest, which is a great way to bring everyone together and get the party going. During the night, create a space for a 'runway' and have your guests show off their costumes one at a time, and then ask all the guests to vote on their favourite one – it's super easy!
We hope everyone has a ghoulishly good Halloween – and if you are hosting a Halloween party at home, make sure you tag us in your posts on social and use the hashtag #KeepmoatHomes, we'd love to see them!