The Pawfect Halloween Costumes For Your Pet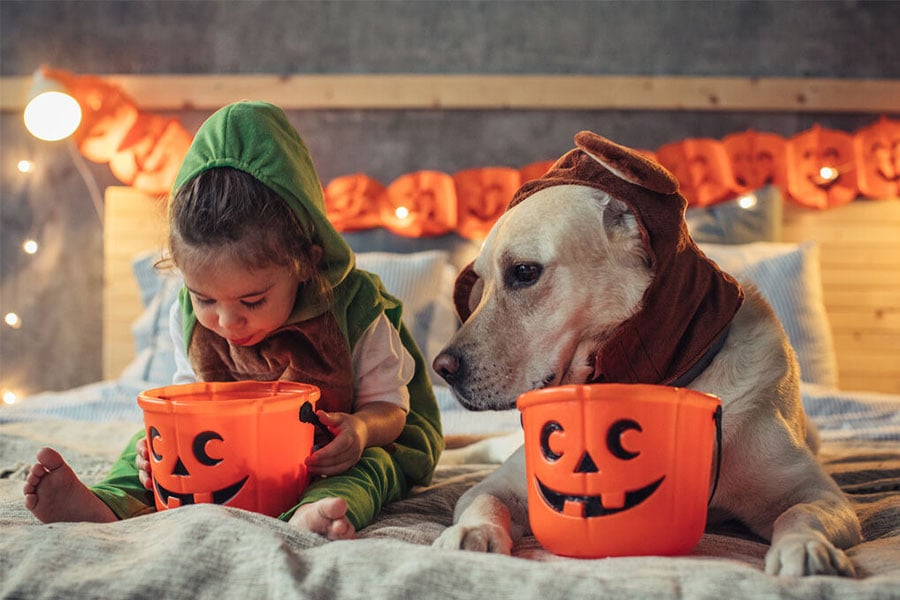 Are you a Halloween lover and looking to get your fur-legged friend involved in the festive fun? If you're anything like us, you know that pets are part of the family, and no Halloween is complete until the whole gang is involved.
Whether you're searching for a spooky costume for your pampered pet or looking to coordinate your outfits and go as a duo, our list of Halloween outfits is sure to get everyone's tails wagging. From rabbits and guinea pigs to dogs and cats (both large and small), we know that no darling pet should have to miss out on all the fun.
That's why we have created our ultimate guide to Halloween costumes for your beloved pets during the spookiest season of the year, whilst ensuring their safety and comfort are the top priority. Remember, you don't have to break the bank to have some festive fun; why not check out these pet-friendly DIY costume ideas this Howl-oween?
Halloween costumes for your pet dog
Spider-pup


Your canine companion will be the top dog in this spider-pup costume.
Bite back this Halloween with this spooky spider-pup costume at Halloween Costumes, perfect for your four-legged (or rather, eight-legged) friend. This costume is guaranteed to transform your adorable fluffy friend into a monstrous beast, sure to get a round of appaws at your next Halloween party!
Chucky-Puppy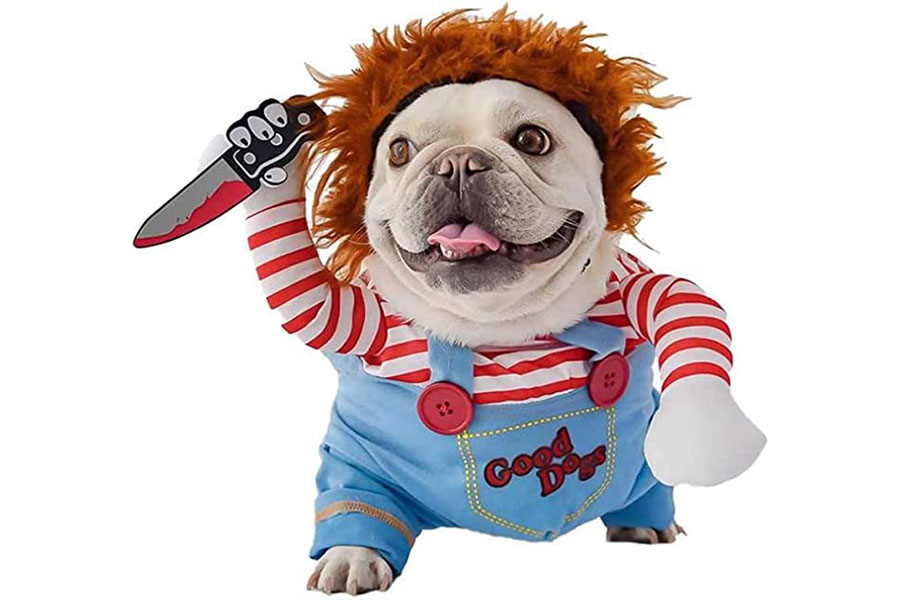 Because "What's so great about being human" anyway?
Looking for a fur-ociously fun costume for your pet? Look no further. Transform your innocent pup into a tail-raising beast with this adorable costume available from Amazon. Complete with an orange wig and dungaree combo, this costume is guaranteed to put a smile on everyone's face while keeping them warm and comfortable!

Pur-isoner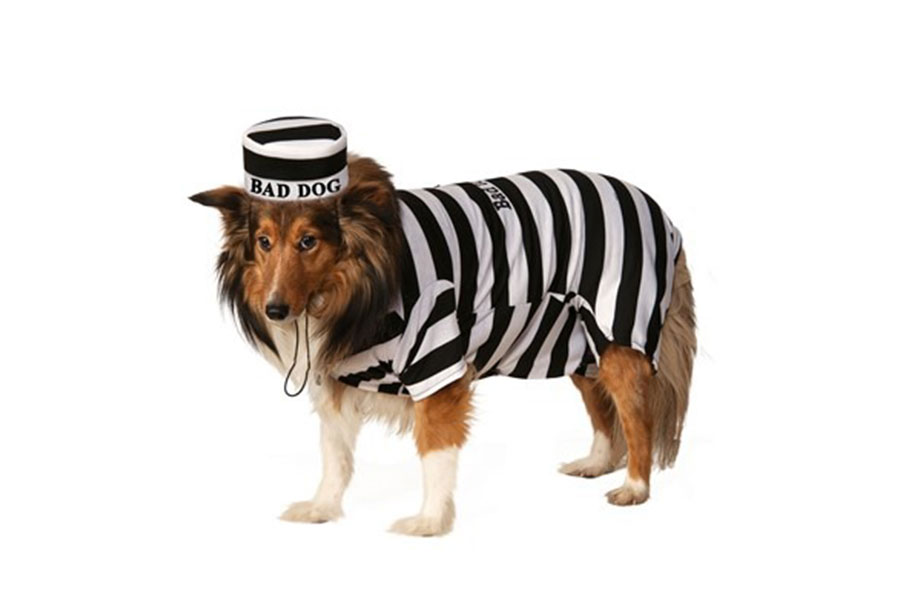 Un-leash your pet's naughty side with this cute prisoner costume available at Halloween Costumes.
Do chewed-up shoes and half-eaten skirting boards sound familiar? We understand that all pets can be a little bit naughty from time to time. Why not embrace their trouble-making madness by dressing them up in this loveable 'bad-dog' outfit? While the hat may only stay on for the photo o-paw-tunity, the overall costume sits like a coat on the dog's body and should keep them cosy and comfortable. Better yet, pair this with a prisoner outfit of your own and go as a mischievous pair.
Hot Dog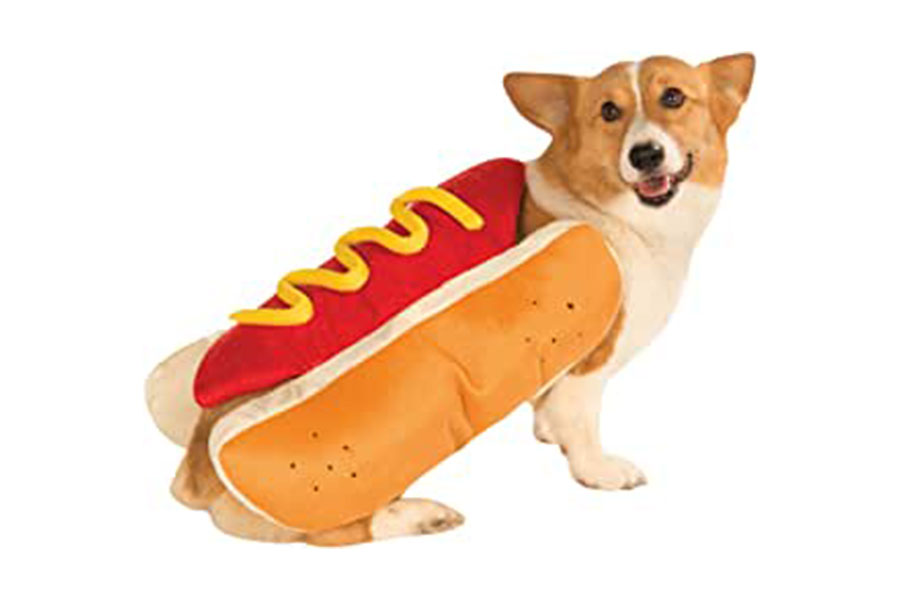 Your canine will be the hottest dog in town with this costume from Nooshie.
This fetch-ing costume is perfect for long, narrow dogs, like Dachshunds, Greyhounds, and Corgis for that authentic hot-dog appearance. Comprised of a faux sausage that sits in a stuffed hot dog roll, this costume will have your pooch clowning around like no one's business. Your adorable pup will look cute enough to eat in this mouth-watering costume, which will sit carefully on the dog's body.
Halloween costumers for you pet cat
Bat-Cat

Thought it was unlucky to meet a black cat? Now you have the bat-cat to contend with.
These cute, small wings available at Amazon are a pur-fectly inexpensive solution for your cats and kittens this Halloween. The wings are adjustable and made from felt cloth, making them soft and comfortable for your pet to wear all evening long. This adorable costume is bound to have you grinning like a Cheshire cat.
Pumpkitten


Because your cat deserves to be your little pumpkin for the day.
Forget ghoulish monsters and terrifying clowns, this hilarious little pumpkin costume on Amazon promises to make your feline friend the star of the show this Halloween. This soft and comfortable pumpkin outfit is perfect for your stylish kitty; some say it's even better than the cat's pyjamas! Why not copy-cat and go as a pair of pumpkins?

Avo-cat-o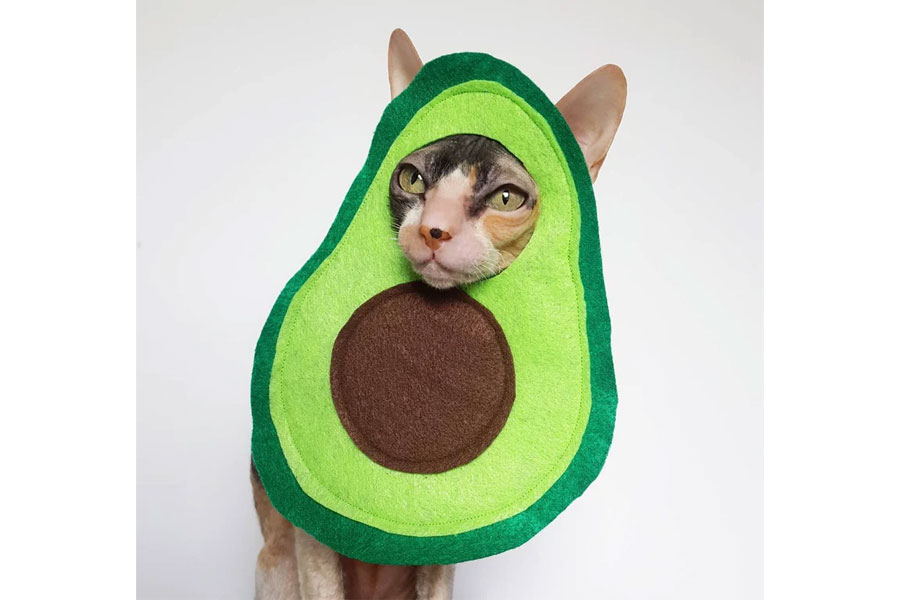 Avo-wonderful time with this adorable avo-cat-o costume on Etsy.
Don't worry if you're a bit of a scaredy-cat. This adorable avocado cat costume will have you coo-ing over your feline companion. This carefully sewn outfit made from lightweight felt is purr-fect for a fun photoshoot or your hilarious party antics. The costume is available in three sizes and is guaranteed to make a statement for even the largest of cats!
Halloween costumes for your small pets
Guinea Witch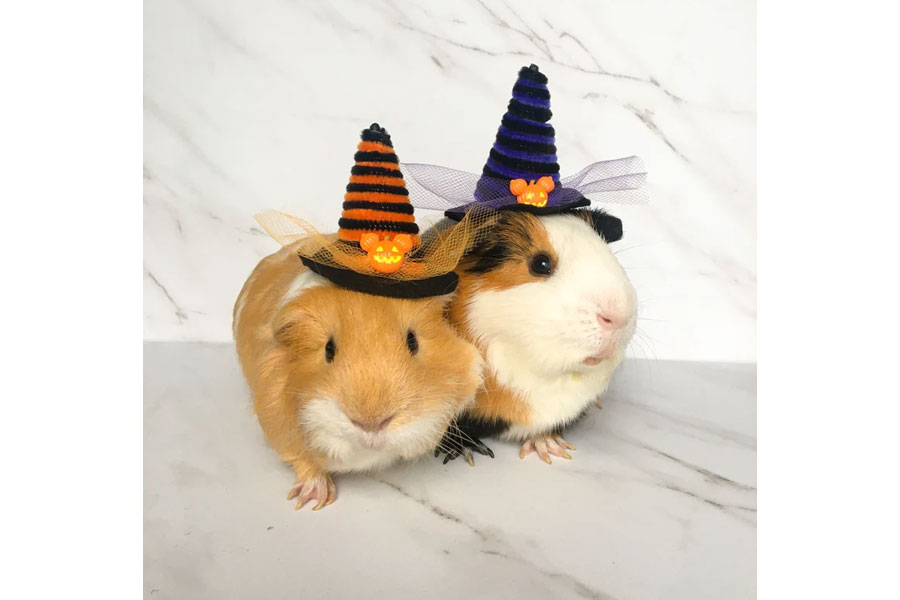 Available from Etsy, this adorable witch's hat is bound to put a spell on you and your furry friend!
From guinea pigs and hamsters to rabbits and rats, this adorable witch's hat is the perfect solution for your pet's Halloween dress-up. Whether your pet is secured safely in a hutch or allowed to roam free within your cosy halls, this cute accessory is tiny enough for even the smallest of tunnels. Include your beloved pet in the family celebrations this Halloween with this loveable option!

Dracula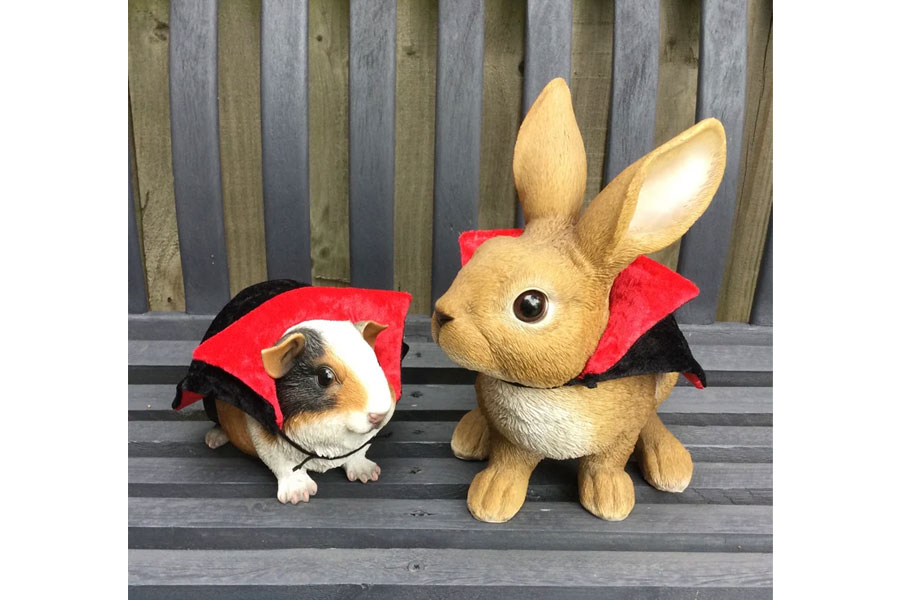 Too cute not to get your fangs into.
If you're looking for something a little more vampiric for your furry friend, take a look at this cute Dracula costume from Etsy. The small cloak has a crushed velvet spooky black exterior with a blood-red collar, perfect for transforming your treasured pet into a villainous vampire.

Have you found a perfect Halloween costume for your furry companion or are you having a go at making your own? Share your pictures with us on social media by simply tagging @KeepmoatHomes in your posts along with the hashtag #KeepmoatHomes, you'd be barking mad not to!