The Best Family Matching Christmas Jumpers (including pets!)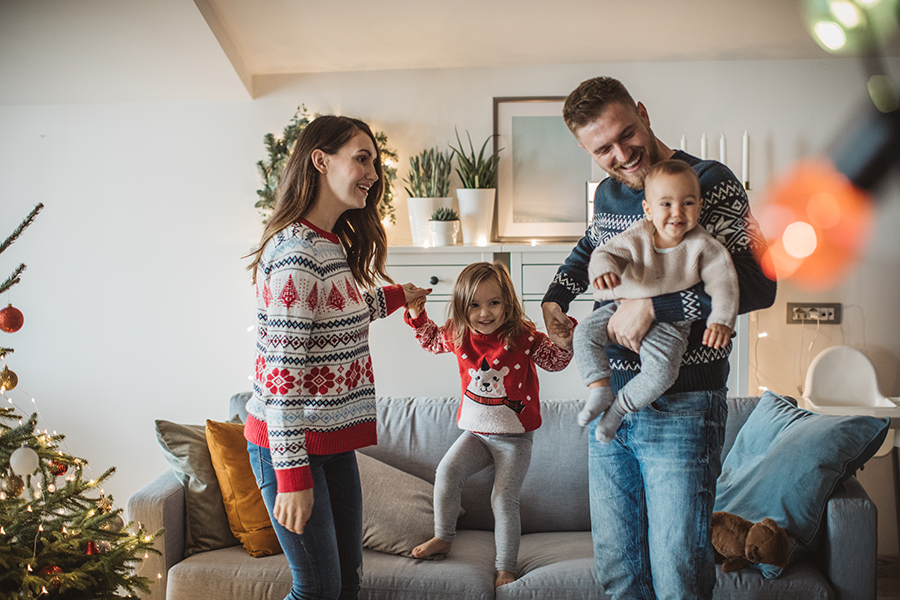 Besides the novelty paper hats which have been freshly pulled from your Christmas cracker to wear around the table while tucking into your turkey, nothing makes you feel quite as festive as... a woolly Christmas jumper.
In recent years there have been an increasing array of designs to choose from, not only for yourself, but to match with your loved ones as well. There are even plenty of festive pet jumpers available for if you want to match with your adorable furry friends.
Snapping a perfect picture of your whole family gathered around the twinkling tree in matching attire is a lovely memory to frame, or even to use in your next Christmas card. And, for those who partake in the new tradition of Christmas Eve boxes, gifting everyone these novelty items of clothing would be a fantastic present, so that your family can all wear these together on the big day.
For you and your other half
Red Olives Naughty & Nice Twin Christmas Jumper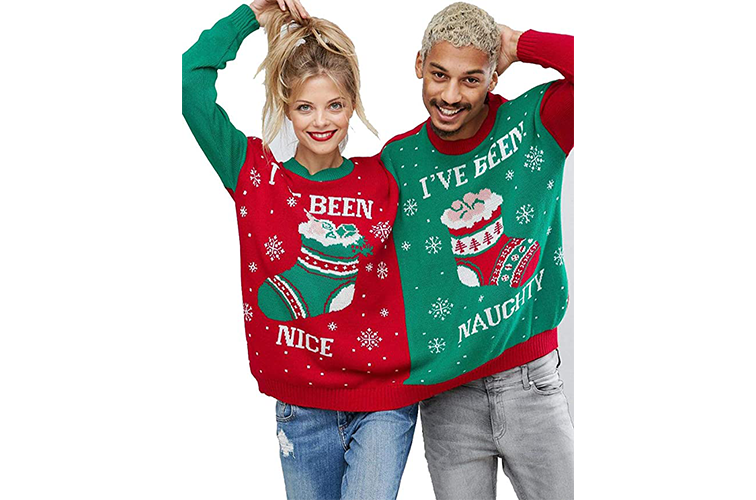 Image: Amazon
This hilarious naughty and nice twin jumper comes in festive red and green colours, and is made for you to wear with your other half so you will become literally inseparable. This quirky jumper is available on Amazon for £24.99, and can be bought with free delivery included in a Prime subscription in case you want to envelop your partner in this jumper as soon as possible.
Illuminated Apparel Interactive Glow Christmas Tree Jumper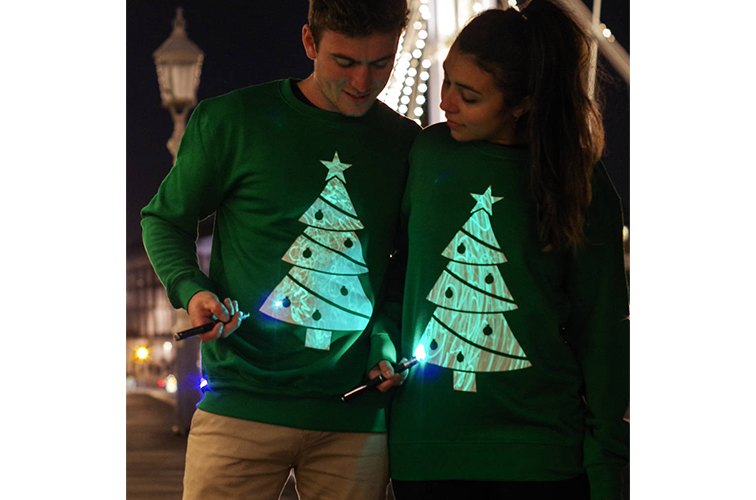 Image: Not on the Highstreet
Stand out from the crowd with this light up outfit, suitable for both you and your partner so you can dazzle your friends and family this Christmas. These jumpers even come with a fancy glow pen so you can get creative and doodle pretty patterns on your Christmas tree that will glow in the dark. Available at £30 from Not On The Highstreet.
For the whole family
M&S Mince Spies Jumper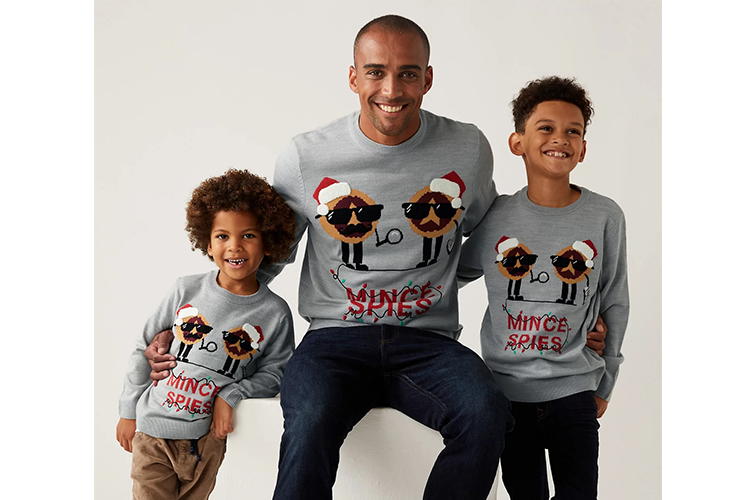 Image: Marks & Spencer's
Marks and Spencer's have a few great options for the whole family, but we like this cute yet funny Mince Spies jumper, which is made with responsibly sourced cotton and available in sizes XS to 4XL, as well as ages two – seven years. The adult's sizes are priced at £25 and the children's 'Mini Me' jumper is £16.
Aldi Penguin Jumpers
Image: Aldi
Aldi have some great budget Christmas jumpers that are available to buy both online and in store. These fun penguin jumpers will give a cute matching vibe without being exact copies for you and your little one. The soft and cosy blue children's penguin jumper is available in ages three up to age 12 and is priced at £7.99, while the festively red ladies jumper is £9.99.
The Little Tailor Christmas Fairisle Jumpers at John Lewis
Image: John Lewis
If you have a new-born or small child, then these jumpers may be for you. The classic and cosy design comes in navy, cream and red cotton, with matching sizes for the entire family, including baby and kids' Christmas jumpers from £26, and women's and men's at £45.
Next Reindeer Jumpers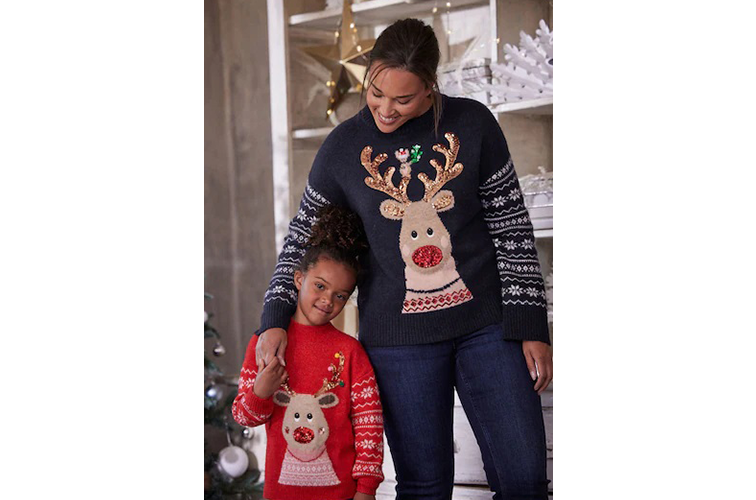 Image: Next
Pairing red and blue together seems to be on trend this year, as Next provides these matching reindeer jumpers for adults and children. The novelty design boasts a charming reindeer finished with sequins and pom poms, as well as patterned sleeves. While the adult jumper, priced at £35, is coloured navy, the jumper for three- to 16-year-olds is a Christmas red and priced between £23 and £28.
For you and your pet
New Look Red Fair Isle Christmas Dog Jumper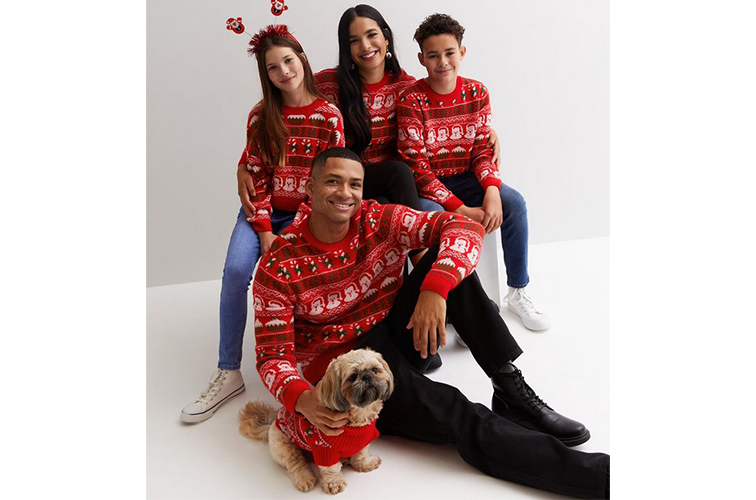 Image: New Look
New Look has some affordable yet adorable Christmas jumpers that come matching for parents, children, and man's best friend. The classic red Christmas pattern is sure to please every member of the family, and your pooch will love being extra cosy during their post-Christmas dinner walk. The women's jumpers are £25.99 and the men's jumpers come with a price tag of £29.99, while the children's jumper is £19.99, and the dog jumper is available at £14.99.

Society 8 Christmas Jumper at Next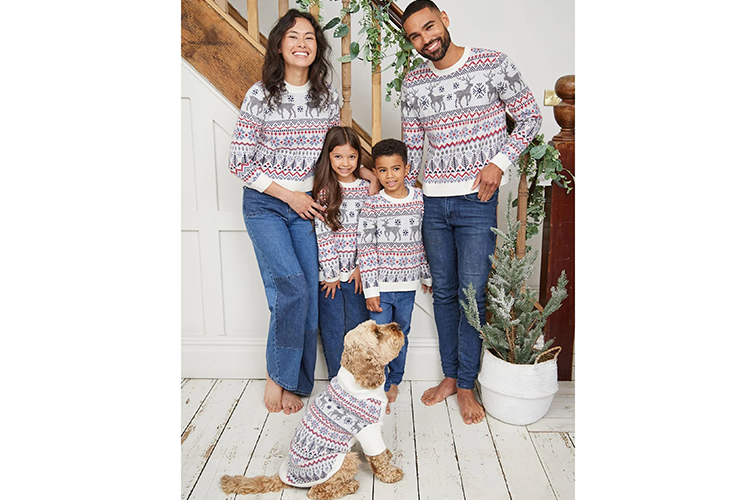 Image: Next
Go all out and match your entire family - children and dog included - with these Society 8 Christmas Jumpers, available at Next. This jumper is available in women's (size XS – XL), men's (size S – XL), girl's (aged 5 - 14), boy's (aged 5 – 14), and not forgetting one for your dog. Priced from £18 – 28.
Boohoo Naughty List Slogan Christmas Jumper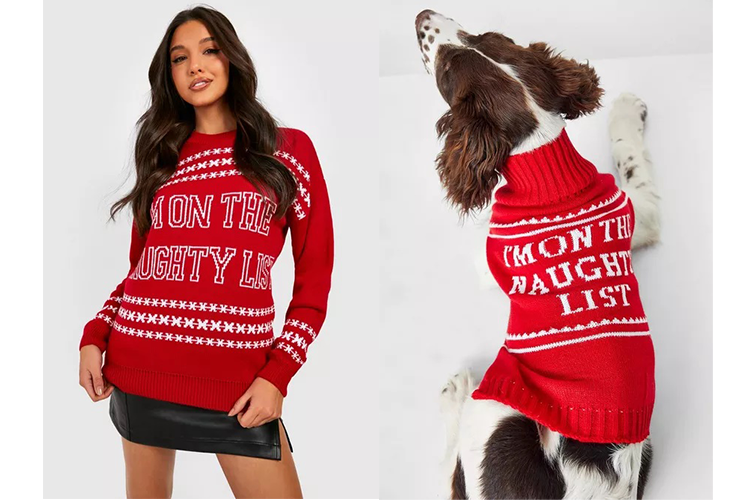 Image: Boohoo
If it's just you and the dog, Boohoo have a range of different matching jumpers to choose from. We like this cheeky 'I'm on the naughty list' pattern, available in a classic red or soft baby pink colour, and priced from £10 for your dog's festive knit, and £20 for it's human to match.
We'd love to see pictures of you and your family wearing matching jumpers for Christmas, so share your photos with us by tagging @KeepmoatHomes along with the hashtag #Keepmoat on social media.