Planning approval has been submitted for the Scotwood Training Hub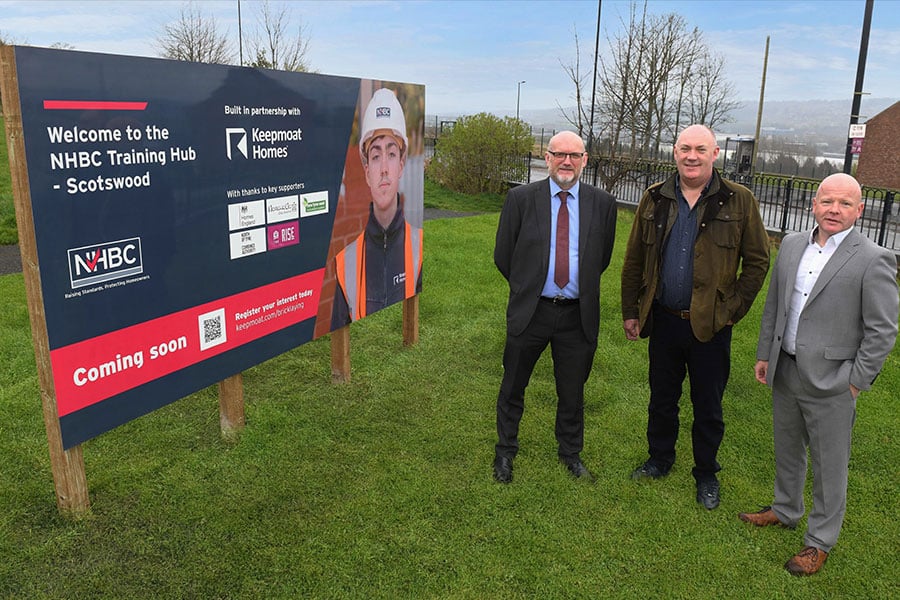 Wednesday 30th March 2022
Planning approval has been submitted for the Scotwood Training Hub to support more than 100 bricklaying appretnices per year.
NHBC, the UK's leading new home warranty and insurance provider, has submitted a planning application for a new training hub in Scotswood, Newcastle which will support the training and development of the next generation of skilled housebuilders in the North East.
The NHBC Training Hub will be built in partnership with Keepmoat Homes, New Tyne West Development Company (NTWDC), Newcastle City Council, North of Tyne Combined Authority and Homes England and will be located at The Rise development in Scotswood.
The Rise is a £265 million, 1,800 home regeneration initiative being delivered by NTWDC – a public private partnership between Newcastle City Council and Keepmoat Homes.
Once complete, the training hub will support more than 100 apprentices per year, with the initial focus on bricklaying. The purpose-built facility will immerse apprentices in a realistic working environment adjacent to the Scotswood regeneration site.
The new hub will be the second dedicated training facility built by NHBC - the first was launched in Tamworth in 2021 - and forms part of its ongoing commitment to support the next generation of housebuilders, equipping them with the skills to build high quality new homes.
Commenting on the new hub, NHBC Head of Commercial Services, Darryl Stewart said: "We are pleased to be working in partnership with Keepmoat Homes, NTWDC, Newcastle City Council, North of Tyne Combined Authority and Homes England to extend our successful Tamworth Training Hub model to Newcastle. The hub will provide a realistic work environment where we can deliver an accelerated, front loaded, block release, homebuilding focused, bricklaying apprenticeship. Open to all housebuilders and their supply chain in the area, we look forward to doing our bit in tackling the skills shortage."
NHBC became a registered apprenticeship provider in 2020 and to date more than 200 have joined its apprenticeship programmes.
Ian Worgan, Regional Managing Director at Keepmoat Homes, said: "Like most housebuilders, we have witnessed a significant shortage in skilled labour in recent years and this has been further exacerbated by the impacts of Covid. We are delighted to be extending our apprentice programme at The Rise through this new initiative with NHBC in a bid to resolve the current shortfall in experienced bricklayers."
"As a company, we have always placed work experience and apprenticeships high on our priority list as we aim to inspire individuals and provide opportunities within the homebuilding industry. The new Hub will be critical to ensure the future workforce is equipped with the skills, knowledge and experience to deliver high quality, affordable homes in the future, as well as providing an opportunity for long-term employment for many young people and those seeking to retrain or change career."
NTWDC Director, Lee McGray added: "From the outset we have striven to deliver community benefits and support, alongside high-quality new homes. This planning application is a further example of how this project, if approved, would create opportunities for local people and change lives for the better."
Michelle Percy, Director of Place at Newcastle City Council, said: "Creating employment and learning opportunities is an important part of regeneration so this has the potential to be a very exciting initiative, but obviously it will be subject to the normal planning application process."