Old Pallets Provide Prisoners with Skills for the Future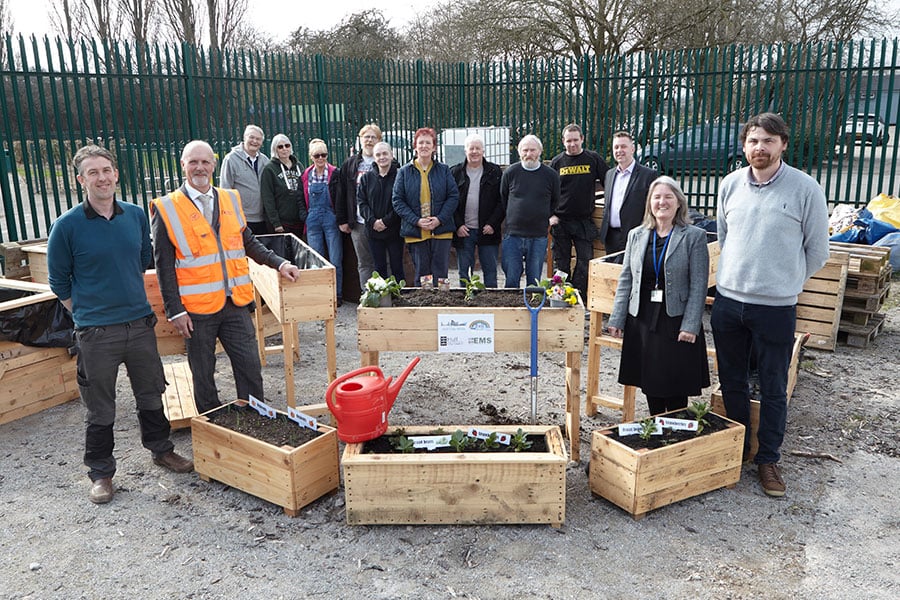 Date: Tuesday 22nd March 2022
Top ten national homebuilder, Keepmoat Homes, is supporting prisoners at HMP Hull with vital skills required for future employment.
To help create a sustainable community, Hull City Council and Hull Citywide Developer Partnership, a consortium of developers that includes Keepmoat Homes and Strata Homes, is supporting skills for people serving prison sentences by providing them with old pallets from their new housing developments. These are then upcycled into planters and used to grow food in the local community.
The scheme is the first of its kind and aims to reduce site waste whilst providing offenders with key skills for future employment, as well as help them position themselves for greater work and volunteering opportunities upon release. The first planters have been handed over to the new Cropton Park Community Allotment off Bricknell Avenue, which is being developed by EMS with the support of Hull City Council's Wyke Area Team.
All parties are working in collaboration with Investors in Community, allowing the prisoners to accurately record the hours they work on the planters, which they'll be able to access on release.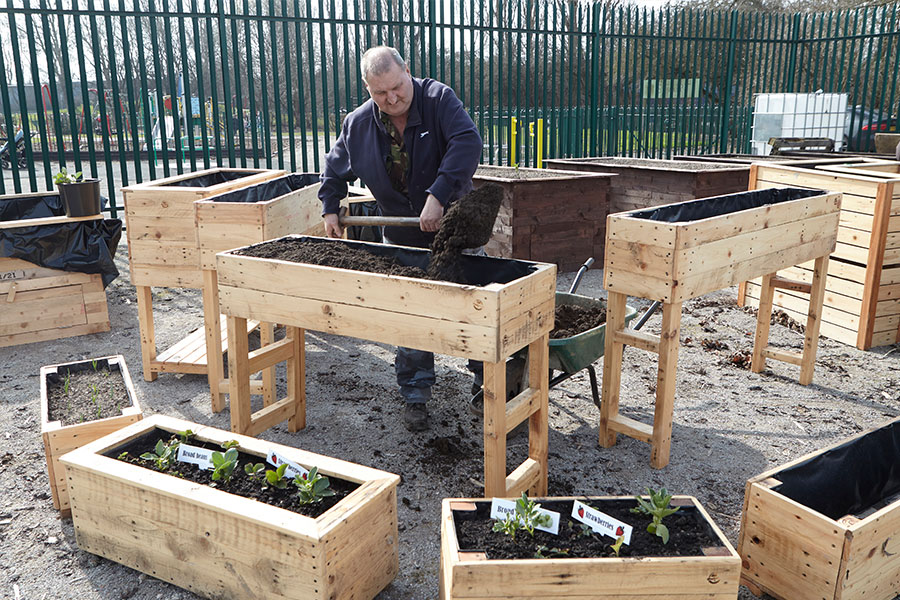 Having launched earlier this year, the prisoners have spent over 85 hours in total and made 52 planters to date.
Thomas Leech, Industries Manager at HMP Hull, said: "At HMP Hull, we're driven to provide prisoners with meaningful employment opportunities whilst in custody, along with relevant skills and training that they will be able to use on release, with an aim to help them find work and live law-abiding lives, and this project fits perfectly with everything we are trying to achieve.
"Prisoners are learning new skills and working hard to produce planters from items that would have essentially gone to landfill. These planters are then given to people in the local community that have earned them through community credits doing things such as volunteering time to do litter picking within the community. The fact that prisoners are giving something back to the community creates a sense of pride and are real sense of purpose for the prisoners."
Prisoners, Ben and Joe who have been working on the planters, commented: "We've really enjoyed making the planters from unwanted donated pallets and knowing that they will be going to volunteers that put in the time and the effort to benefit the community is rewarding."
"To give back to the community feels like we are doing our part and the planters are basically a "thank you" to everyone who volunteers."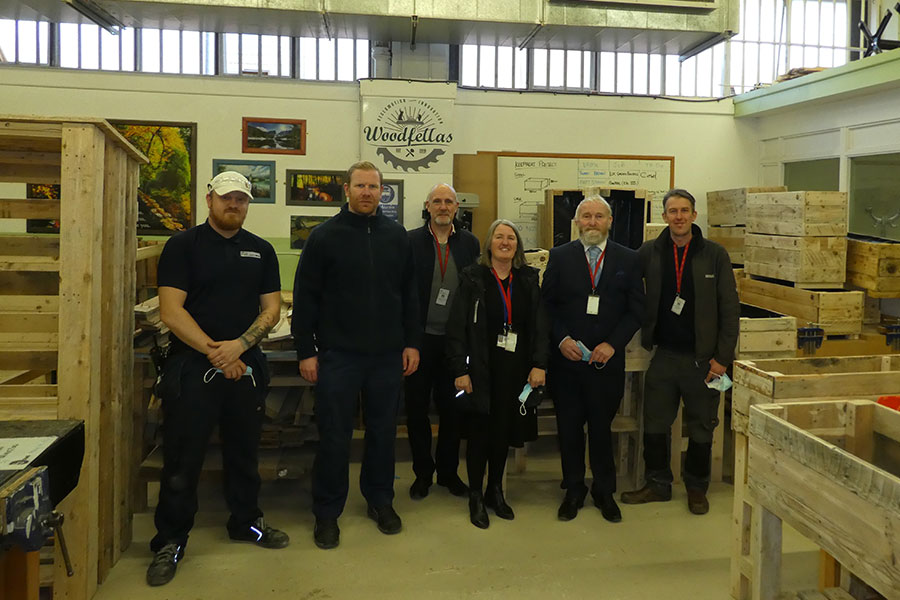 Once made, the planters are donated to EMS, a local charity in Hull that works with residents, community groups and local businesses to alleviate food and fuel poverty. The charity
sets up community vegetable gardens that aim to promote a healthy lifestyle, allowing residents and families without a garden or allotment to grow their own produce. The planters, food growing and support to become more sustainable are part of a recognition scheme for local volunteers working with EMS.
John Pickles at EMS said: "The planters are extremely well made, lined and varnished and should last for many years. They are being taken on by members of the public, who under guidance from EMS, fill them with soil and use them to grow themselves tasty fresh produce such as salads. Some have already been planted with onions, broad beans and strawberries.
"This is a fantastic initiative because people are learning important skills and gaining the confidence to take control of their own food supply. At the same time, they are meeting other members of the public during teaching sessions at our community allotment site, where they are currently keeping their planters. This improves social cohesion and reduces social isolation which is so important at the moment."
Paul Storey one of the recipients of the planters commented: "Having a planter has made a great difference in my life. I've got mine planted with onions and I am going to add lettuces and radishes. I keep my planter at the community allotments on Cropton Road and have received a planter after doing several weeks of volunteering there. I felt quite isolated during lockdown, so going out to tend to my vegetables and meeting other members of the community allotments there is making a huge difference in my life."
Another recipient of one of the planters, Geraldine Rainey, added: "I'm very interested in growing my own healthy and nutritious vegetables. My father used to have an allotment and I am trying to eat seasonally again. With prices rising at the moment and a cauliflower costing as much as £1.50, I'm very keen to grow my own. I've got lettuce, spinach, cauliflower and some flower seedlings at home, which I will be transplanting into my planter soon. I am looking forward to getting involved at Cropton community allotments and the social side of things with my neighbours there."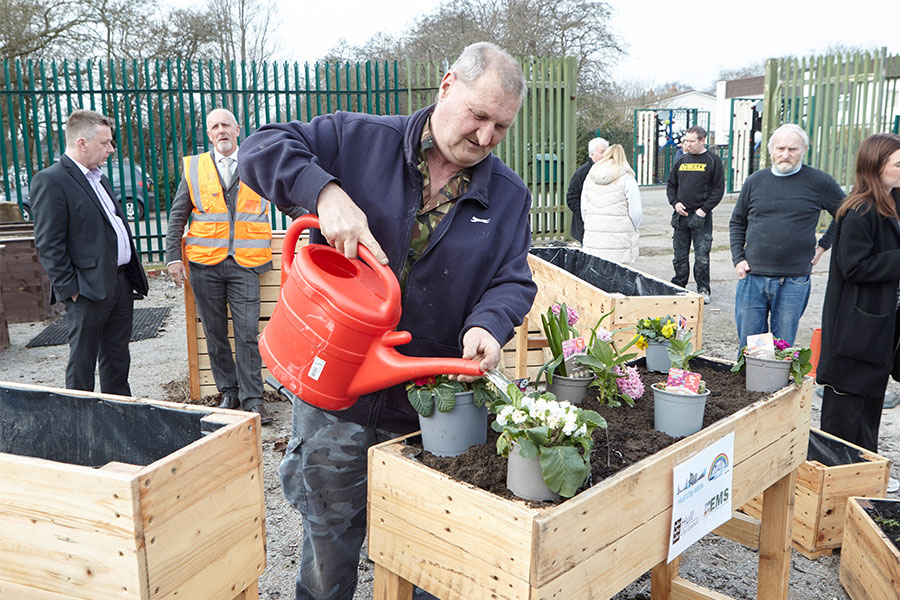 Mark Burley, Social Value & Partnerships Manager at Keepmoat Homes and Hull Citywide Developer Partnership, said: "It's an honour to be a part of this great initiative, which not only supports the green agenda by re-using and recycling old pallets from our housing developments, but offers prisoners a life changing chance to gain the skills they need to secure a rewarding career upon release, as well promoting a greener and healthier lifestyle for the local residents.
"As a company, we're driven to support the local communities we serve, and the initiative aligns perfectly with our own commitment of being an equal opportunities employer, supporting those to develop the key skills required to forge a new career. The project is lifechanging for prisoners and aims to boost their confidence and employability when they're looking to re-enter the jobs market, especially in the construction industry. It also provides them with a sense of achievement when they see others receiving the planters they make."
Cllr Peter North, Chair of Hull City Council's Wyke Area, said: "This project ticks all the boxes for everyone involved and demonstrates our collective commitment to establishing a more biodiverse and sustainable environment for our community. It was an inspirational initiative from Keepmoat Homes, the council's long term development partner, for the wood to be repurposed, rather than sending it to landfill.
"The training and work experience gained enhances prisoners' employment prospects on release, and our residents benefit from well-crafted planters for the community garden with EMS. I look forward to working on future projects alongside our partners to ensure we make best use of our precious green spaces for the benefit of our communities."
Mark Leaf, Land and Planning Director at Strata, said: "It is great to be able to support such a great initiative in the City of Hull, which supports and promotes recycling and reuse of materials that are integral to our development of new communities in Hull.
"Our developments seek to deliver far more than just building homes and we strive to have a much wider impact in the local community and neighbourhood.
"This exciting initiative allows prisoners at the Hull Prison an opportunity to learn and develop new skills, build confidence and support them into work in the future."
Following the success of the initiative in Hull, the scheme is expected to be rolled out to prisons across the UK.