Making Space at Home to Get Fit and Create a Healthier Lifestyle
If your New Year's resolution was to improve your health and fitness and get in better shape, but you feel like you've hit a bit of a slump after the first month - we have you covered.
It can often be difficult to leave the house and brave the cold once the early night sets in, and not to mention make the effort to head to the gym, or even commit to a membership. However, we've teamed up with Joe Ralphs, a fitness coach, who has shared some of his top tips on how to improve your health, fitness and physique at home.
Keep active
Something I encourage all my clients to do is 'Get The Steps In' (#GTSI). Did you know your daily activity levels accumulate to 15% of your daily calorie burn, and believe it or not, it is 3x more than the calories you burn if you were to train for an hour in the gym.
By simply moving more, which could just be walking up and down the stairs, cleaning the house or your car, or venturing outside for a walk around your neighbourhood, you'll start to see so many benefits - not just from a calorie burning standpoint but also an improvement on your mental health too.
If you do manage to get outside for a walk, you'll also probably see a little more of your neighbourhood and explore some cool new routes that you'd have never found if you stayed indoors. Going for a walk is also a great way for parents to introduce their children and pets to daily exercise as well.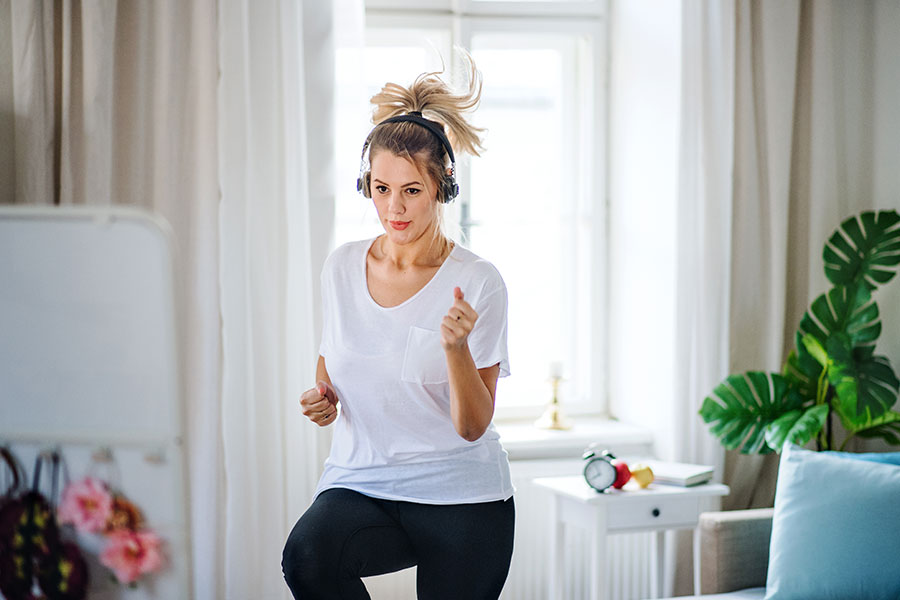 Make time and space for exercise
You wouldn't miss a meeting or an appointment that has been scheduled into your diary, so don't make exercise an exception. Input time into your weekly schedule to undertake an hour or 30-minute exercise – and don't let anyone or anything get in the way of your "you time".
My advice for exercising at home is to make sure you have a separate environment for training – ideally in a place or room that you don't normally choose to sit and relax in. Make some space in your garage, spare room or even your kitchen, and have your equipment and a mat already set up, so you can easily start your workout without any delay.
It's important to treat that space as your exercise area and have separate areas for other things (like lounging and sleeping). Trust me, when you're chilling on the sofa, the last thing you'll want to do is exercise whilst The Chase is on in the background – whilst we may all love Bradley Walsh, he doesn't quite motivate you to train.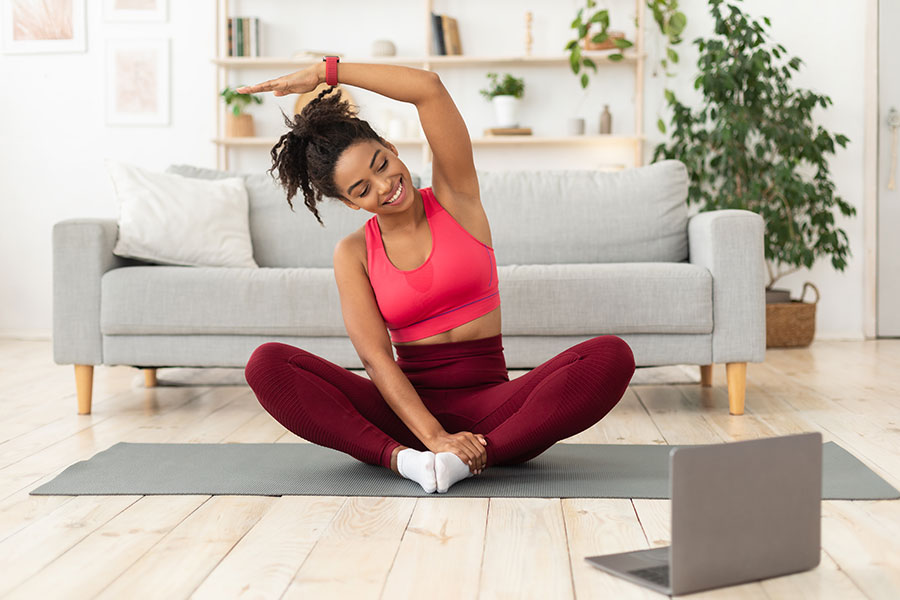 Use some resistance
Our bodies react really well to more resistance. Without challenging our muscles, they will simply not get stronger. This can be done with some resistance bands which can be purchased online, cheap weights from your local supermarket or even a backpack full of cans of beans.
The world is your oyster and there are endless exercises you can do to build strength with minimal equipment from your home.
If you're completely new to exercise, I'd recommend starting with some body weight squats or lunges – and to progress these to the next level, you could add a little bit of extra weight, do more reps or slow the reps down. If you start off doing 3 sets of 10 reps, with around 30-90 seconds rest between each round (or longer if required) you can then build up from there.
For upper body, a variation of push ups would be a good place to start. If you struggle to do a regular push up, try them on your knees or having your hands on something higher than the floor like the sofa to make them a little easier.
If you're feeling creative, you could also build a make-shift squat rack with your wheelie bins which does the job, but make sure it's not after bin day or they'll end up tipping over!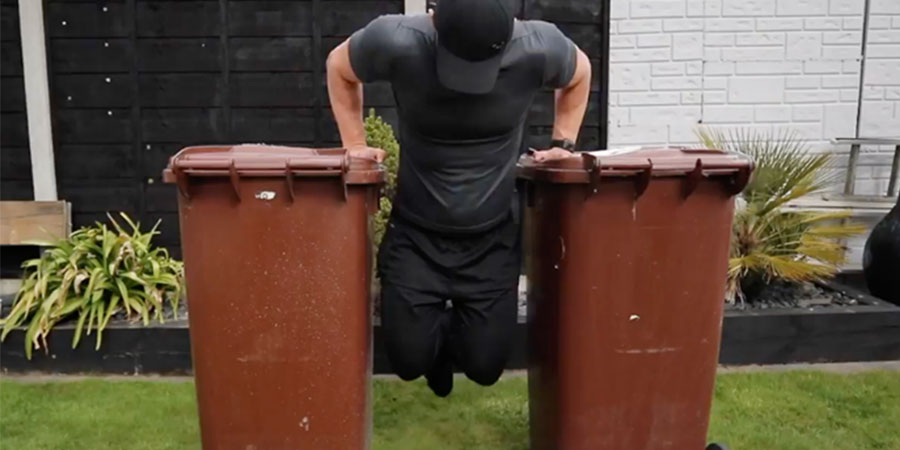 Be accountable
This is THE secret in the fitness industry. A lot of people know what to do. They just don't do it often enough. Having someone or something to hold you accountable will massively help you in sticking to your exercise routine. A partner, friend, child or a coach are all great versions of people to hold you accountable. You could even start off with something like a habit tracker where you tick off your achievements at the end of each day.
Make a list of all your habits you want to achieve each day or throughout the week and make it visible so it can give you a kick up the bum to do them when you see them. My recommendation is to make these realistic and what you can actually achieve every day or week – this could include a 30-minute workout, hitting a set number of steps, or drinking 2L of water a day.
The physical action of you putting a tick next to each action every day will give you a sense of satisfaction and reward which can then lead to more motivation. Try and challenge yourself to create a streak as long as you can – but if you break the streak, don't worry, just start again and aim to beat it.

Joe Ralphs is a fitness coach and gym owner from Wakefield. Having helped over 1,000 people enhance their health and fitness, whether it's at the gym, at home or outdoors, Joe specialises in improving their body composition, health and fitness levels, along with becoming more confident overall and in their clothes.
If you'd like any additional help or advice on your own fitness journey, drop Joe a message on: [email protected]