Keepmoat Homes donates over £5,000 to fund services for young people of Glasgow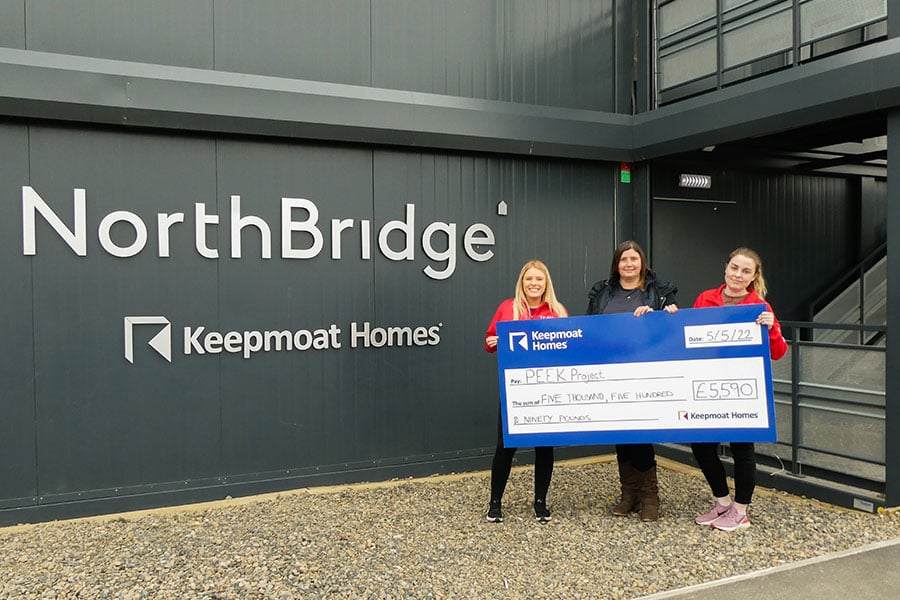 Keepmoat Homes has donated over five thousand pounds to help fund the charity PEEK (Possibilities for Each and Every Kid), and its continued services for young people in Sighthill.

PEEK provides wide-ranging services throughout the year for the children, young people and families of Sighthill, to support those experiencing poverty and inequality in Glasgow. The charity relies on funding from fundraising and corporate sources so that the activities that improve the wellbeing, physical and emotional health of those who use the services can remain free of charge.
A cheque for £5,590 was handed over to the charity by representatives at Keepmoat Homes, which will go towards making a sustainable long-term difference to the lives of local families and supporting the local community through fun activities and events.
Alice Harley, Social Value Manager at Keepmoat Homes said: "We have been working in partnership with PEEK for several years and recognise the significant services that the 'PEEK Project' delivers, both to and for the Sighthill community. Without funding, employer support and input, it would not be possible for PEEK to continue with these much-needed programmes locally.
"It is our pleasure to be able to continue supporting the PEEK Project and benefit those at the heart of the local community, now and for many years to come."
Rebekah Corbett, Programme Development Manager at PEEK (Possibilities for Each and Every Kid) said: "This much needed funding from Keepmoat Homes couldn't have arrived at a better time for our families in Sighthill. As an organisation our mission is to support children, young people and families to improve their life chances and you will find our team in Sighthill, year-round, doing just this.
"The school holidays have always been a particularly hard time for our families and the current rise in food and fuel prices means things like family outings are an unachievable luxury. This support from Keepmoat Homes means we will be able to provide some much-needed respite in the form of fun family days out! Whether it's a day trip to a beach, a farm park or a day at the cinema, our families will make lifelong memories and our children will be able to share what they got up to on holiday."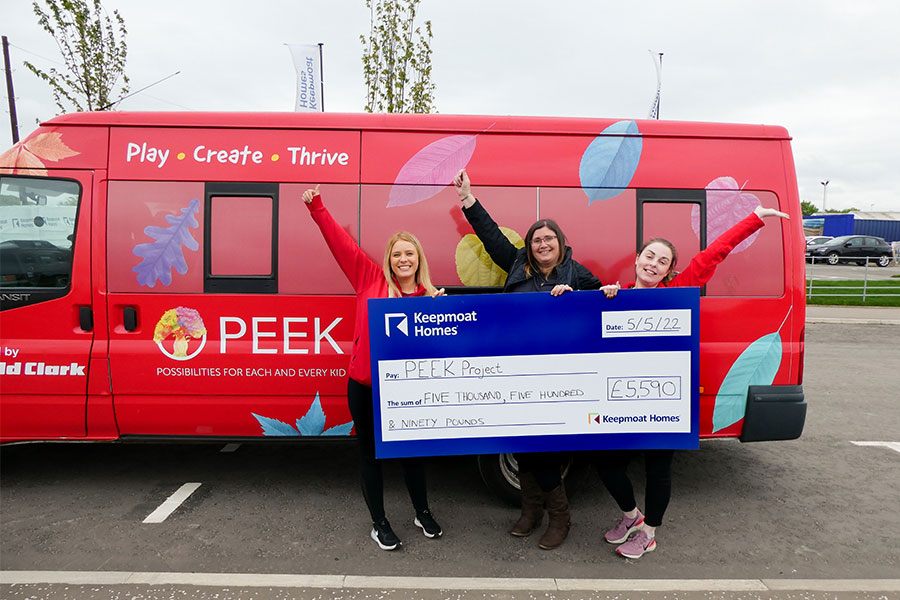 The donation is part of Keepmoat Homes' commitment to go beyond bricks and mortar during the regeneration of Sighthill, which will deliver over 800 new, energy-efficient homes to Glasgow when complete. The redevelopment aims to enhance the area, not just with providing much-needed new homes, but via training and job opportunities and support for the local community.
Derek Wilson, Regional Managing Director at Keepmoat Homes, said: "As part of our ongoing commitment to contribute to the community surrounding our NorthBridge development in Glasgow, we set up Sighthill Community Benefits, a community engagement financial fund to support charities like PEEK.
"The charity does an excellent job of supporting families in the community and we are extremely proud to be able to engage with the local area and make a difference to everyone who lives there."