Keepmoat Homes Donates a Full Bookcase to Pupils at New Local Secondary Academy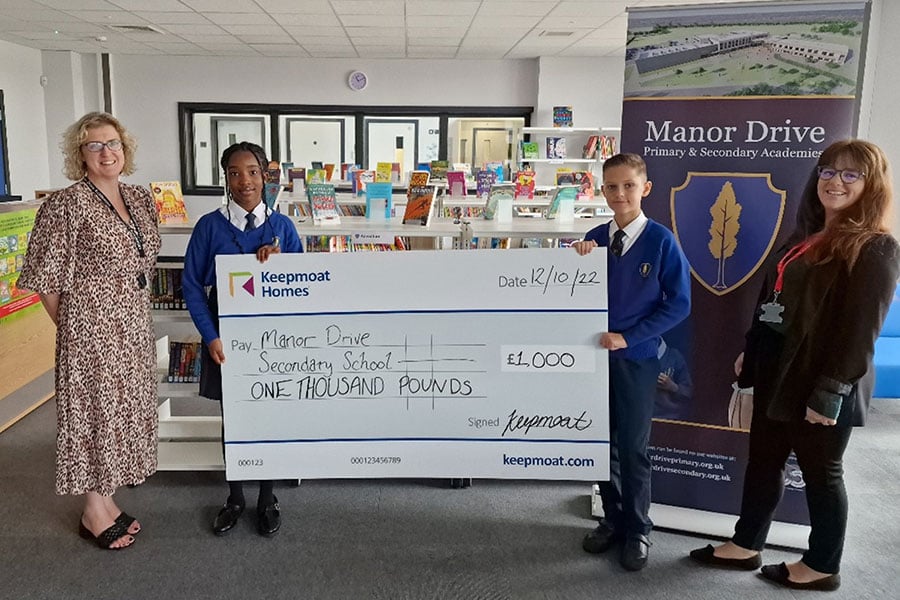 National housebuilder, Keepmoat Homes, has made a cash donation to the newly built Manor Drive Secondary Academy in North Peterborough to help fill its library and inspire a generation of readers.
Manor Drive Secondary Academy is a brand-new school, opening in the North of Peterborough and within the catchment for families on the neighbouring Keepmoat Homes development, Roman Fields.
As they prepare for their inaugural first year, Manor Drive Secondary Academy is giving local businesses and members of the community the unique opportunity to sponsor books in its library and inspire the students to have a love of reading.
In keeping with its vision of creating thriving communities for families, Keepmoat Homes made a £1,000 donation to fill an entire bookcase with new books for Year 7 pupils to enjoy in the new school year this September.
Mick O'Farrell, Regional Managing Director at Keepmoat Homes said: "We're delighted to have made this invaluable donation for the pupils at Manor Drive Secondary Academy.
"Reading is a fundamental part of learning at any age, and it's an honour to be able to help inspire a generation of young learners and set them up for a bright future, whilst solidifying our relationships within the local community."
Jo Sludds, Headteacher of Manor Drive Secondary Academy said: "We are delighted and very thankful to Keepmoat Homes, who have come on board with our 'Sponsor A Book' campaign. This generous donation has filled a whole bookcase with exciting new books, which are our first cohorts of students are enjoying reading."
If you would like to find out more about the Academy or sponsor a book, please click here.
Click here find out more about Keepmoat Homes' Roman Fields development.