K.A.T.S Glasgow Secures Funding for Community Centre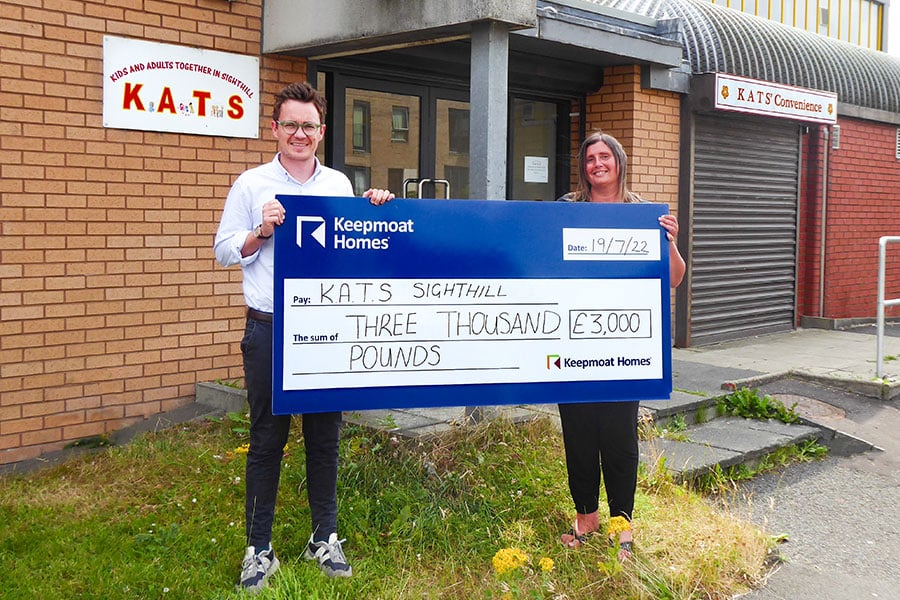 Top ten national homebuilder, Keepmoat, has supported K.A.T.S (Kids and Adults Together in Sighthill) with a cash donation to ensure its much-needed services for the people of Sighthill remains.
K.A.T.S has resided in the Sighthill Community Centre since 2008, providing nursery, afterschool care and community facilities for residents. To support the charity, Keepmoat has donated £3,000 which will cover the cost of replacement fire protection and the installation of 34 smoke detectors at the community centre which it operates in. Without these vital health and safety regulations in place, the centre would have been non-compliant and could face closure.
The charity relies on funding from businesses so that it can continue with its vital services to the community and the contribution by Keepmoat has enabled the Community Centre to remain open to the public.
The donation is part of Keepmoat's commitment to go beyond bricks and mortar during the regeneration of Sighthill, which will deliver over 800 new, energy-efficient homes to Glasgow at its flagship NorthBridge development. The redevelopment aims to enhance the area, not just with providing much-needed new homes, but via training and job opportunities and support for the local community.
Tina Suffredini, Centre Manager at K.A.T.S, said: "We're so thankful to Keepmoat and their support funding the purchase and installation of the new fire alarms, as well as bringing these in line with the new legal standards surrounding fire protectors. Without the funded support we would have had to go through the lengthy process of raising the money through other means."
Alice Harley, Social Value Manager at Keepmoat, said: "Our aim alongside building much-needed new homes in the Sighthill area, is to support and enhance the local community and make a real difference in the area we operate in. Our Community Benefits and Community Engagement Fund helps local charities and community initiatives, and through this fund we supported the Sighthill Community Centre with this requirement without disrupting public services.
"K.A.T.S is a fantastic initiative which promotes community engagement, cultural integration and self-help by providing social and recreational space and facilities, and it is a great pleasure to be able to guarantee that they can continue to benefit the local community. By ensuring the health and safety requirements are met and the building in which they operate in can continue, we know our efforts will enable a lasting legacy to continue."