Gardening Tips with Diary of a Lady Gardner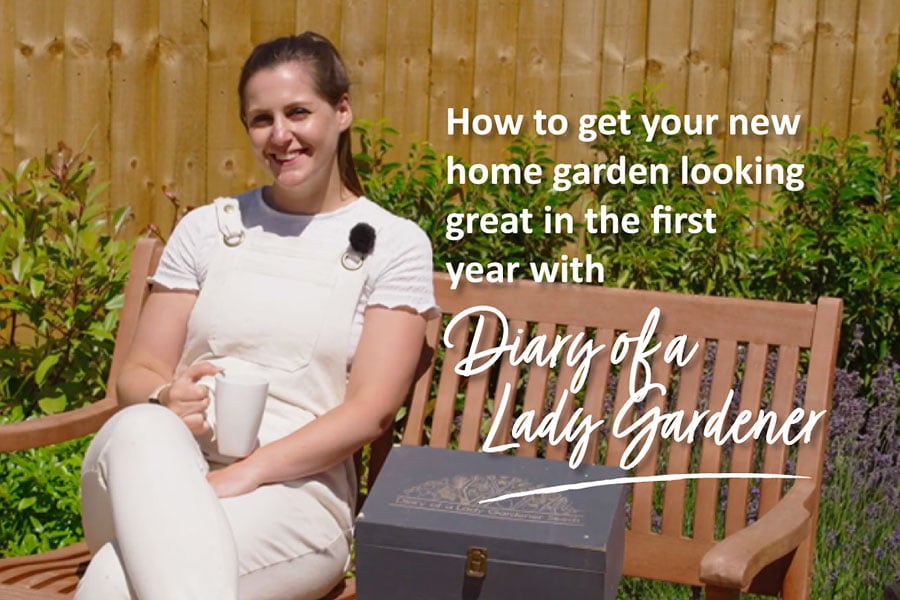 If you're a new home buyer, having a garden is incredibly exciting. From sunbathing in the summer sunshine to hosting your very first BBQ, a garden is something to be enjoyed.
As it's a new territory for you, you wouldn't be blamed for feeling a little unsure on where to start on your dream outdoor haven. That's why we've teamed up with gardening guru Shannon Keary, also known as Diary of a Lady Gardener, to bring you our top tips on maintaining your new garden.
From her top dos and don'ts for a lush lawn, to introducing flowers and plants to add a splash of colour, Shannon takes us through the best ways you can help keep your garden looking fresh and inviting.
How to maintain your new lawn in the first year
Having a lush green lawn is a staple to a stunning garden, and many of the gardens in our new homes are complete with high-quality turf which requires a little TLC at the start. Here are Shannon's 3 top tips for encouraging a happy and healthy lawn:
1. Water daily and check rooting by gently tugging on a patch. If any of the grass comes up when you give it a tug, you know it's not quite ready yet.
2. Avoid walking over the grass whilst it's settling in, this includes pets!
3. Begin feeding your lawn after 6 weeks with a high-quality lawn feed.
How to introduce colour to your garden and keep plants looking fresh
Potted plants and flowers are a great way of adding colour to your garden, especially whilst you're still planning on your complete layout and look. Shannon gave her best advice:
1. Use annual flowers and seeds that you can pick up from your local garden centre, and check when is best to plant them for the best results.
2. Pots are a great way of adding instant colour, you can move them around and change them up, to keep your garden looking refreshed all year round.
3. Eggshells are a cheap and pet-friendly way of keeping pests at bay. If you want something that adds a little style to your garden, use crushed whelk shells which are perfect for garden borders, beds, rockeries or as an outdoor plant pot topper. Here's some we like to use.
Make the most of the space you have
No matter what size or shape, your garden should be an idyllic outdoor haven that you and your family can enjoy all year round. Here's Shannon's tips for making the most of your space:
1. Create wildlife-friendly spaces to encourage a healthy garden that thrives. Brightly coloured plants are perfect for attracting those all-important pollinators.
2. Herb borders can diversify your garden and is a great asset when cooking your delicious meals.
3. Define outdoor living spaces for you to enjoy by using borders. If there's a particular spot that soaks up the sunshine in the morning, create a spot to enjoy your breakfast or morning cup of coffee.
Follow us on social media for more tips and tricks on how to create a stunning garden. Be sure to keep us up to date with your progress by tagging us in your posts, or using the hashtag #KeepmoatHomes