Interior design
13/12/2022
Decking the Halls for Christmas: An Inspiration Gallery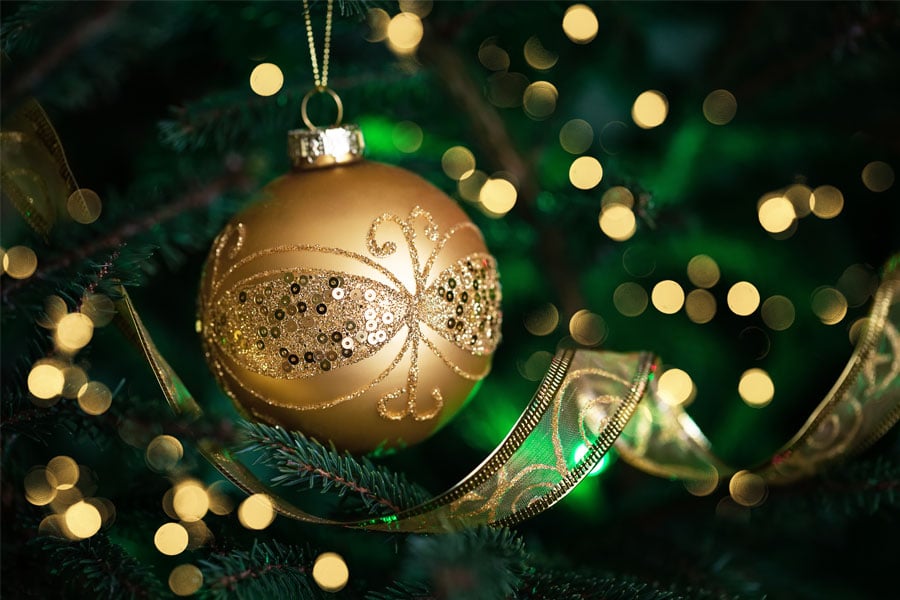 During the Christmas holidays, your home is yours to decorate how you wish, and how you decorate should reflect the joy that is spread throughout the season.
However, when it comes to decorating your home for the first time, you might be faced with challenges such as – deciding on your colour scheme and how to ensure it is harmoniously matched with your everyday décor; whether you opt for the authenticity of a real tree or the convenience of an artificial one; and finally, just how many Christmas lights is too many Christmas lights?
If you're stuck on where to start and are looking for inspiration, look no further than this gallery of our favourite customer decorations. It might just spark some ideas…
Pick a colour scheme that suits you
Deciding on a colour palette is a great starting point for deciding how your Christmas decorations are going to look and ascertaining the atmosphere you're trying to achieve. From baubles and tinsel, to lights, accessories, and the all-important tree-topper, choosing the right colour palette for your home is key to achieving a cohesive festive display.
Maybe you go for a classic Christmassy colour combination, such as red, green, and gold, or opt for something a bit unconventional like blue and silver or even monochromatic for a modern, minimalistic feel. Check out the below images from our customers for more inspiration.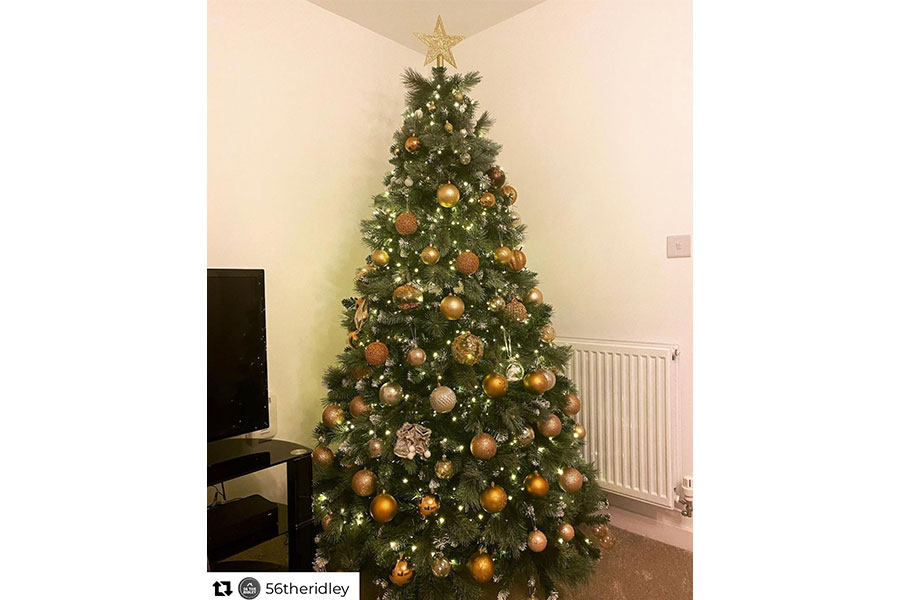 Our customer, @56theridley, has used festive tones of gold and bronze, with some fairy lights dotted between their hanging decorations adding a sense of warmth. The classic gold star atop the tree is the perfect finishing touch.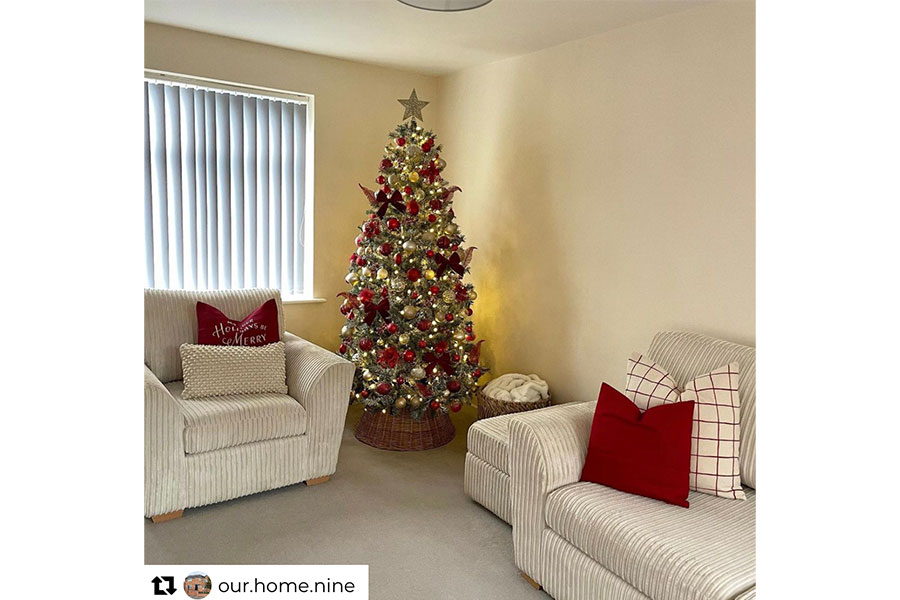 Opting to pair your Christmas colour palette to your everyday décor is a sure-fire way of keeping things harmonious and seamlessly blended. It could be as subtle as matching some tree ornaments to your cushions, like @our.home.nine, who's chosen a classic Christmas crimson and gold for their tree to complement the existing interior décor.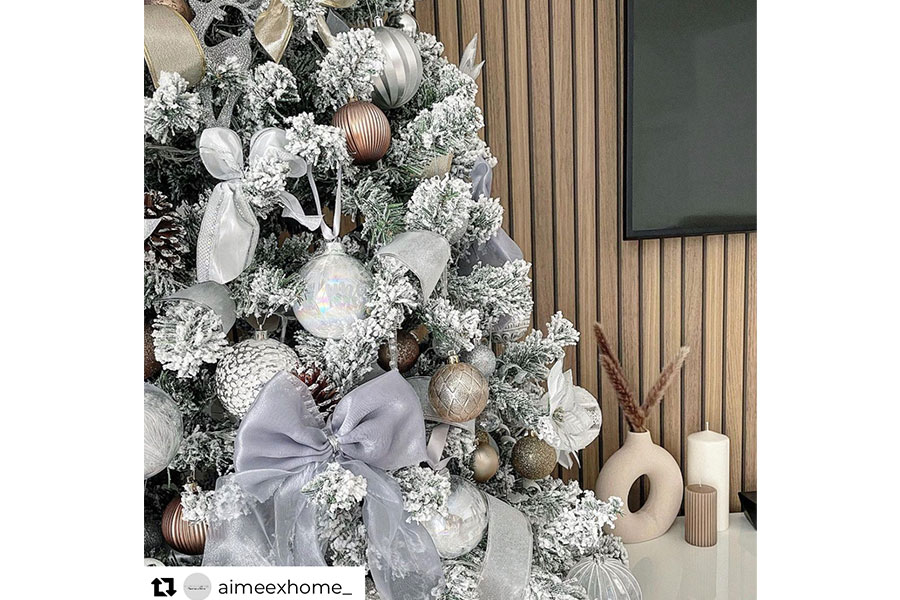 @aimeexhome_ has gone for a bold, yet modern colour theme of silver with a hint of rose gold on their Christmas tree to tie in with their neutral home aesthetic. This cool, metallic tone is perfect for emitting a wintery wonderland in the comfort of your home without overpowering your everyday interiors.
If you're looking to break away from the traditional fairy or star topper, go for a statement that looks like @absbarron and @our_little_ash that has just the right amount of cheer.


Spread festive feelings throughout the home with accessories
Your home is a blank canvas at Christmas, and decorations don't have to be confined to your tree, but instead could extend into other areas of the home to keep the festive spirit alive.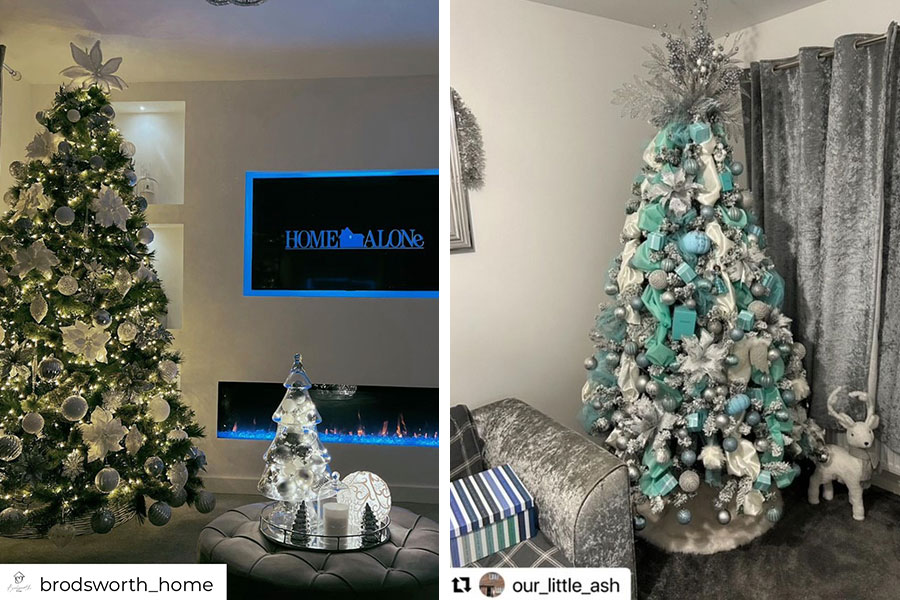 Adding a couple of festive-themed ornaments, like these ones in @brodsworth_home's living room, will tie in beautifully with your decorations, and enhance the Christmassy vibe whilst settling down to watch a classic Christmas movie.
Stars and candles, like these in @thebarrsbamburgh's hallway, are touching additions that carry the seasonal mood into other areas of the home.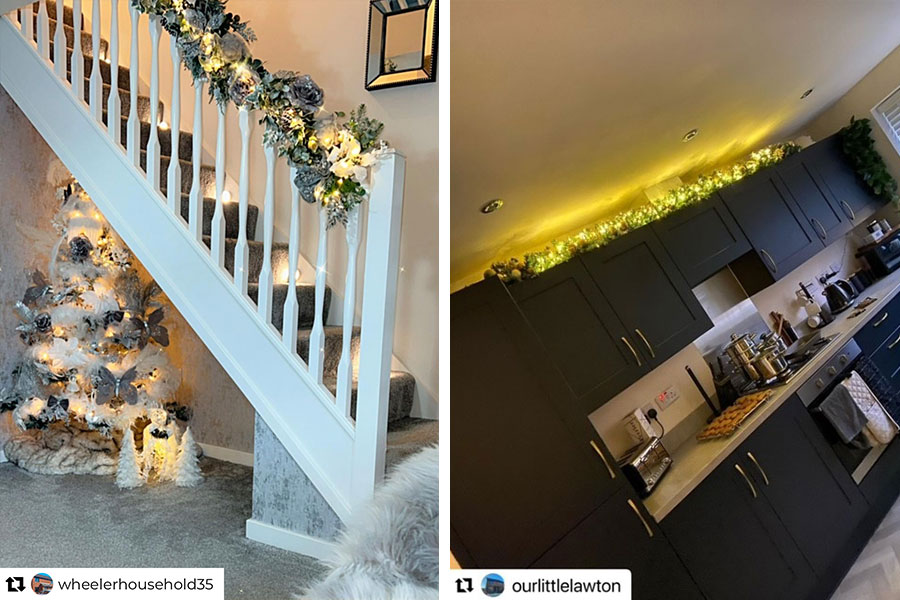 Another idea is to adorn your stairwell with a winding garland like @thewheelerhousehold35, complete with twinkling lights and an extra tree to dial up the festive feeling, or give your kitchen a little Christmas love like @ourlittlelawton.
Evoke a warm welcoming atmosphere with Wreath-ly lovely front doors
A seasonal wreath is a staple decoration to have pinned to your front door at Christmas as it's a wonderful way to welcome you and guests home during the holidays and gets you in the mood for joy and merriment.
There are various styles of wreath you can buy to suit any home from stores such as The Range and Dunelm, or you can gather some vine, lights, and little ornaments in your chosen colour theme to craft your very own!
Here's a couple of our favourites from our customers @thebarrsbamburgh, @_alder_home and @cosyhome_of_thebrowns for some inspiration…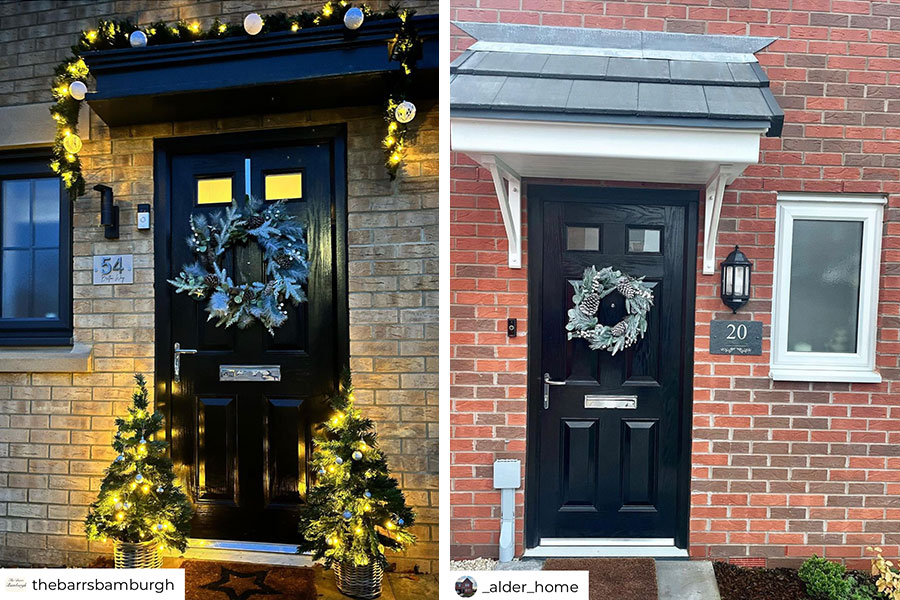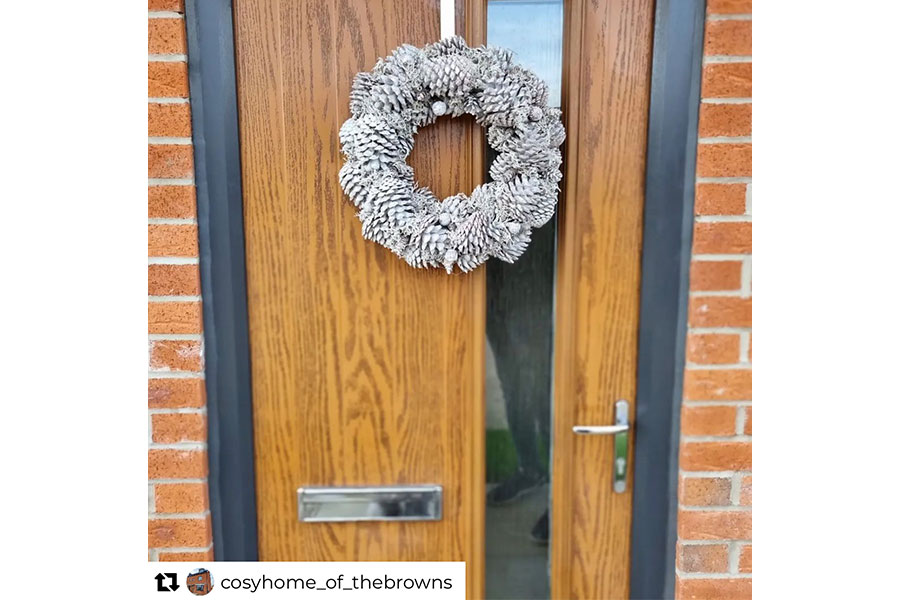 Bring new and old traditions into your home
If you're celebrating Christmas for the first time in your brand-new home, it's the perfect time to start a new tradition. Why not get the whole family involved in the decorating and allow your little ones to have their very own little Christmas tree in their room, like those in @absbarron and @thebamburgh_corkeyshome?
Afterall, Christmas is all about bringing the magic to life for children and what better way than letting your child have their own bedroom decorated for Christmas.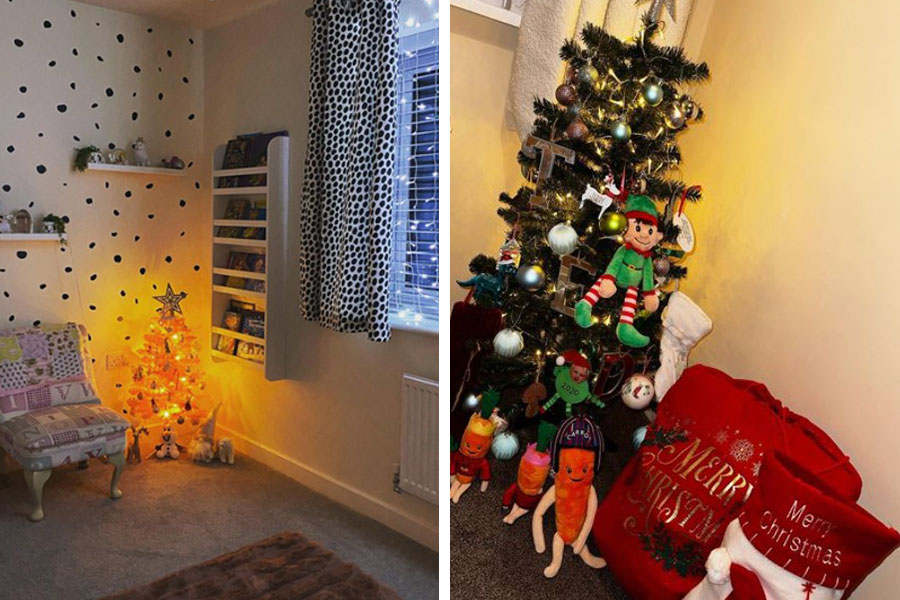 Ceiling Christmas decorations have slowly disappeared from our homes over the past decade, however @miss_magdalena_hull has brought this back into her home, but with a twentieth century twist. Paper Christmas decorations are an affordable way to decorate your entire home for the season (ceiling included) and comes with a whole host of fun for the family - plus, they're wonderfully sustainable as well.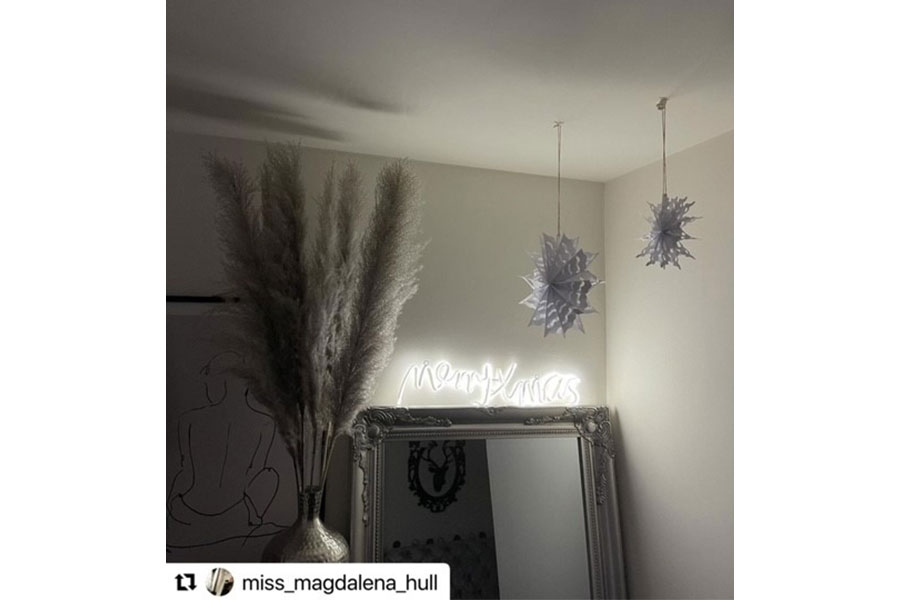 We love seeing your homes decked up for Christmas! To be featured on our social media, be sure to tag us @KeepmoatHomes