Construction starts on new housing development to transform disused land in Leeds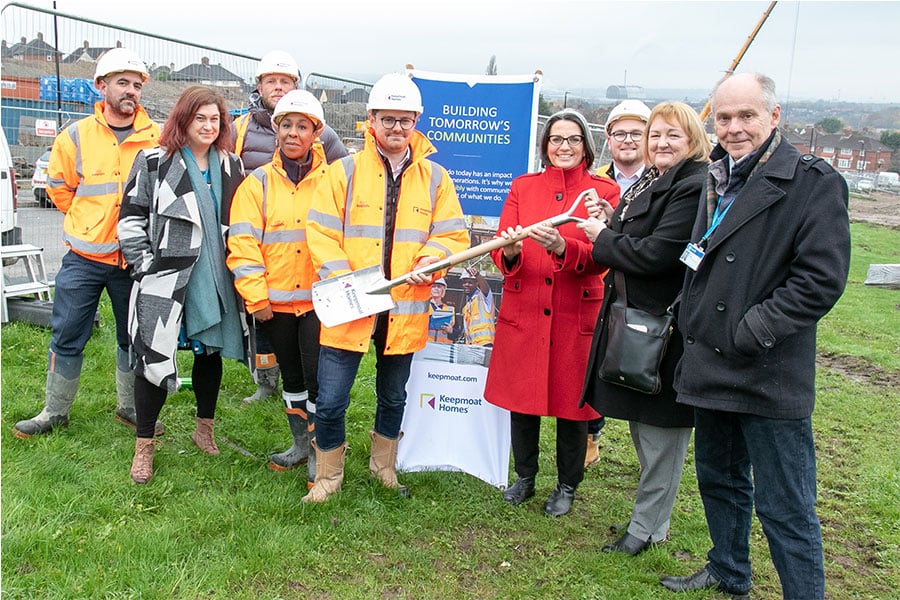 Top ten homebuilder, Keepmoat, has commenced construction of its new housing development, Synergy, at Rathmell Road and Kendal Drive in Halton Moor, which is to be built on unused brownfield land in Leeds.
The project will deliver 109 new homes to the area and will consist of two-, three- and four- bedroom properties, of which a percentage will be available for affordable housing provision though Leeds Federated Housing Association.
The Keepmoat Yorkshire West team hosted a sod cutting ceremony at the site to mark the commencement of construction, with many guests in attendance, including Councillor Debra Coupar, deputy leader of Leeds City Council and executive member for resources, and Councillor Helen Hayden, the council's executive member for infrastructure and climate.
The development is the last site to be built as part of the Leeds City Council Brownfield Land Programme, which is designed to support the city's growth and will provide over 1,000 new homes across 13 housing developments in East Leeds. This programme will not only deliver much needed new homes but will also improve the communities and neighbourhoods within the local area.
The homebuilder has also made commitments to the local community, with plans to work with local schools and employment groups to recruit young people through apprenticeship schemes, with two local apprentices already recruited to start their homebuilding careers at the Synergy site.
Councillor Helen Hayden, Leeds City Council's executive member for infrastructure and climate, said: "The start of construction on this scheme is an important milestone for the council's Brownfield Land Programme and underlines the impressive results that have been achieved through working in partnership to plan and deliver hundreds of high-quality and affordable homes for communities in east Leeds during recent years.
"We are committed to working with developers and stakeholders on brownfield schemes that help meet local housing needs while also driving sustainable regeneration in a way that benefits all residents and plays a part in unlocking the city's full economic potential.
"I was particularly pleased, therefore, to attend the Synergy development's sod-cutting ceremony and hear more about the apprenticeship opportunities being provided on site for young people. I look forward to watching as the new homes – and other community-oriented features such as the scheme's open public spaces – begin to take shape over the coming months."
Michael Orgill, Regional Managing Director at Keepmoat said: "We are delighted to have started construction at our Synergy development in Leeds and can't wait to deliver these new homes for potential homebuyers in the area. As this is the last development to be built as part of the Leeds Brownfield Land Programme, we are incredibly proud of what we have already achieved in East Leeds for residents here.
"The new housing is designed to benefit people in the community and promote integration with design features such as open public spaces. By constructing this new development on brownfield land, we hope to make a positive impact in the community, alongside other work with local schools and youth groups. We're also proud to have already hired two new apprentices to work on the site and gain valuable experience in a real-world work environment."
The project is being delivered in partnership with Keepmoat and Leeds Federated Housing Association. The first of the new homes are expected to be complete by April 2023 with overall completion estimated for June 2025.