Interior design
30/11/2021
3 Cosy Living Room Ideas to Embrace this Winter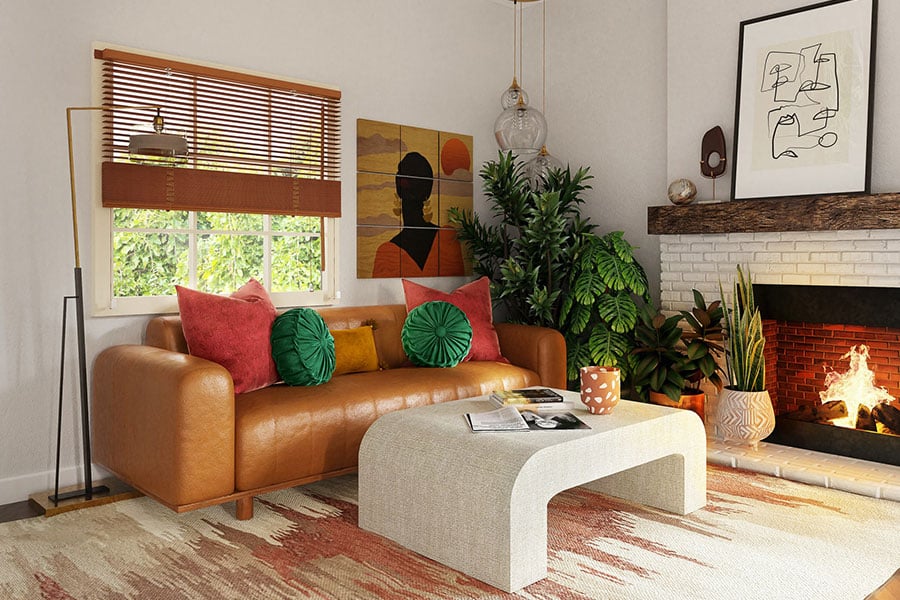 Photo by Spacejoy on Unsplash
The shorter days and cooler temperatures of autumn can only mean one thing: winter is on its way. 1ClickWallpapers have shared some cosy living room décor ideas that will guarantee your home has that snug, hunkered down vibe.
From popular warm, autumnal hues and textiles to timeless interior design tips, discover all the right ingredients for spicing up your living room's decor to deliver season-long comfort and style.
1. Go bold with autumn hues
Winter is typically dark and gloomy, but autumn throws up a beautiful spectrum of warming hues that are the perfect antidote to see you through to spring.
Burnt orange, golden yellow, rich brown and vibrant red are some of the signature autumn shades found in abundance in nature, from seasonal veggies to falling leaves. So what better way to capture the raw essence of the season than by using these hues in your home?
For maximum impact, we suggest using these autumnal hues as your anchoring colour to give your living room oodles of character. To successfully incorporate bolder shades, keep the overall colour palette well-balanced, otherwise, they can feel overwhelming.
Pair them with grounding neutrals like soft, pale grey, beige, cream or white for a clever way to subtly dilute your focal colour. One idea is to have a vibrant coloured feature wall in your favourite autumn shade, offset by lighter hues on the surrounding walls. Or, for a more understated injection of colour, introduce rich and warming shades through artwork, soft furnishings and integral furniture pieces.
2. Add a natural glow
A roaring fire is arguably one of the most effective and beautiful ways to stave off the cool air during winter, bringing with it a natural warmth and glow that's hard to beat.
To keep things autumnal, use earthy tones like terracotta, turmeric yellow and dark green for your fireplace. You don't need an open fire or wood-burning fires to achieve this look either, an electric fire will also do the trick.
But if you don't have a fire, don't fret - you can still give your living room that natural glow using a mix of candles and mood lighting.
One idea is to create the illusion of flames by using fairy lights or candles in vases. Alternatively, invest in table lamps or freestanding lights that give off a soft illumination. Strategically placed by mirrors or other reflective surfaces, replacing the 'big light' with a series of little light sources can instantly give your living room a cosy and snug feel.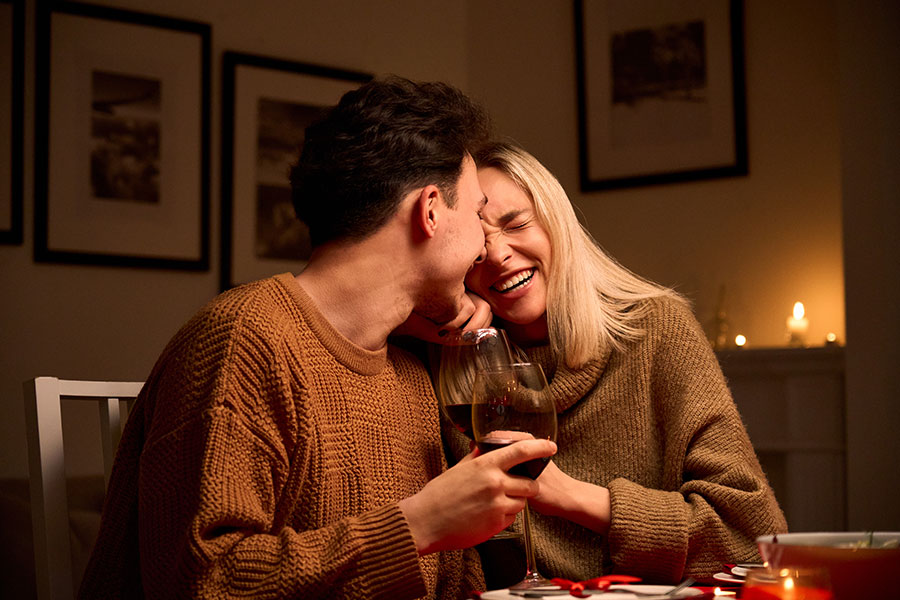 3. Cosy up with lashings of layers
During summer, many of us strip back our interiors to help keep us cool during hot spells. So, it's no surprise we do the opposite in winter, layering our interiors back up.
We're not talking about burying yourself in a thousand throws and cushions (although this would be incredibly comfy!). Instead, consider introducing a blend of textures that evoke a sense of snugness while also enhancing the depth of the space.
For walls, introduce a mixture of tactile surfaces like a chic matt grey wallpaper, shiny mirrors and textile wall hangings to effortlessly bring your walls to life and give the whole space more depth and character.
Create cosy relaxation spaces with furniture and furnishings that champion ultra-soft and tactile fabrics like on-trend boucle, velvet and corduroy, as well as faux fur and wool. Use these different fabrics to curate a wonderfully eclectic and layered finish for sofas and armchairs that are perfect for sinking into after a long day.
You can also introduce texture with hard surfaces, using popular materials like rattan and bamboo for coffee tables, lamp stands, picture frames and more. To strike just the right balance between fashion and function, take the time to play around with your fabric selections, trying them out in different positions and combinations.
If you want to prep your home for the winter ahead, giving your living room a cosy, seasonal revamp could be the ideal place to start - we hope the above ideas give you all the inspiration you need.
The key is to embrace the natural beauty of autumn and winter using seasonal colours and cosy fabrics that will ensure you create a cosy living space that's primed for escaping the cold, dreary weather outside.
Author bio:
Alex Jones is a content creator for 1ClickWallpapers - one of the UK's leading online suppliers of affordable wallpaper and decorating supplies, offering a huge online range of wallpapers, paints and decorating essentials.